20 octobre 2018
Cadeaux!
J'ai quand même fait d'autres choses depuis ces derniers mois, mais elles étaient déstinées à être des cadeaux, et donc je ne pouvais pas vous les montrer avant de les avoir offertes! Mais ça y est, je peux enfin vous les montrer. Pour trois de mes petits-enfants, j'ai eu l'idée de leur fabriquer des coussins de lecture, une idée que j'ai vue en ligne sur plusieurs sites. Ils ont des poches pour ranger le livre qui est en cours (ou toute autre chose!), et j'ai choisi de les agrémenter de motifs appliqués qui rappellent les intérêts de chaque enfant.
Don't think I haven't made anything during these past months, but what I made was a series of gifts, so I couldn't show them to you before they were received! But they are now in their new homes and I can finally show them to you. I got the idea to make reading cushions for three of my grandchildren, having seen some on several web sites. They have pockets to hold the book that is being read (or anything else, for that matter!), and I decided to put appliquéed motifs of each child's "thing" on them.
Le premier a été offert à mon petit-fils fasciné par les tractopelles, et j'ai repris un dessin trouvé en ligne pour le reproduire en tissu.
The first one was for a grandson who is fascinated by backhoes, and I found a picture online that I reproduced in fabric.
Ensuite, je l'ai appliqué sur la poche du coussin. / Then I appliquéed it onto the cushion's pocket.
Pour mes deux petits-enfants à l'étranger, j'ai également trouvé des images en ligne pour ensuite les fabriquer en tissu et les appliquer sur les poches.
For the two grandchildren who are overseas, I also found pictures online and made them up in fabric before appliquéing them onto the pockets.
L'aîné est passionné de super-héros; malheureusement, le jaune du fond de la poche est délavé dans cette photo mais plus apparent dans la suivante!
The eldest grandson is crazy about superheroes. Unfortunately, the yellow background is washed-out in this photo, but a better match in the next one!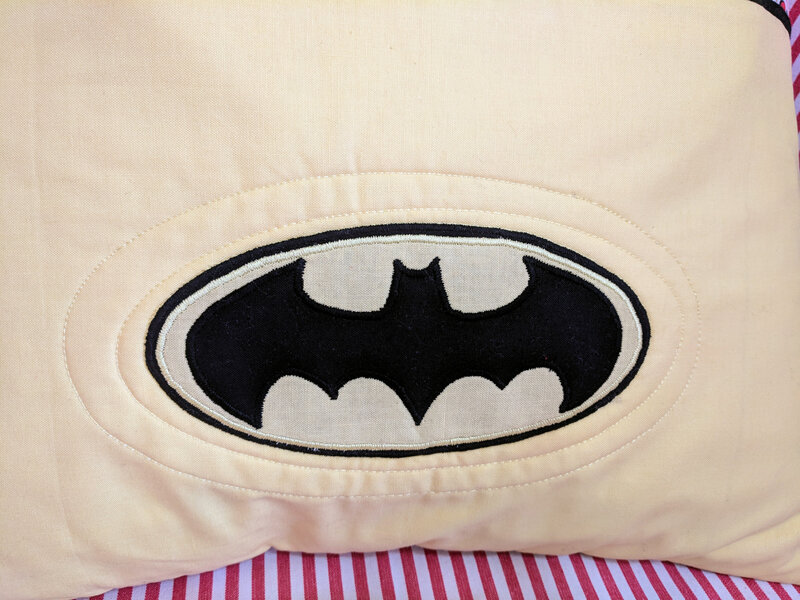 Ma petite-fille est fan de Winnie!
And my granddaughter is a Winnie-the-Pooh fan!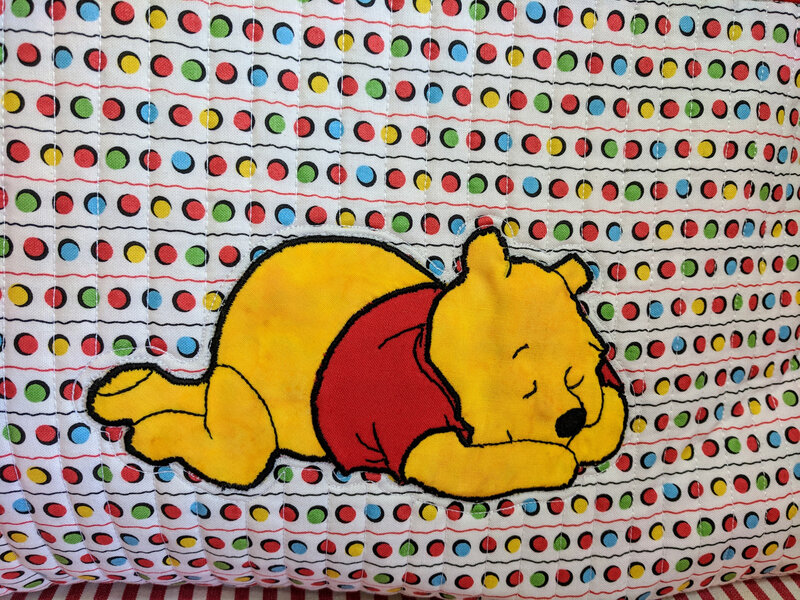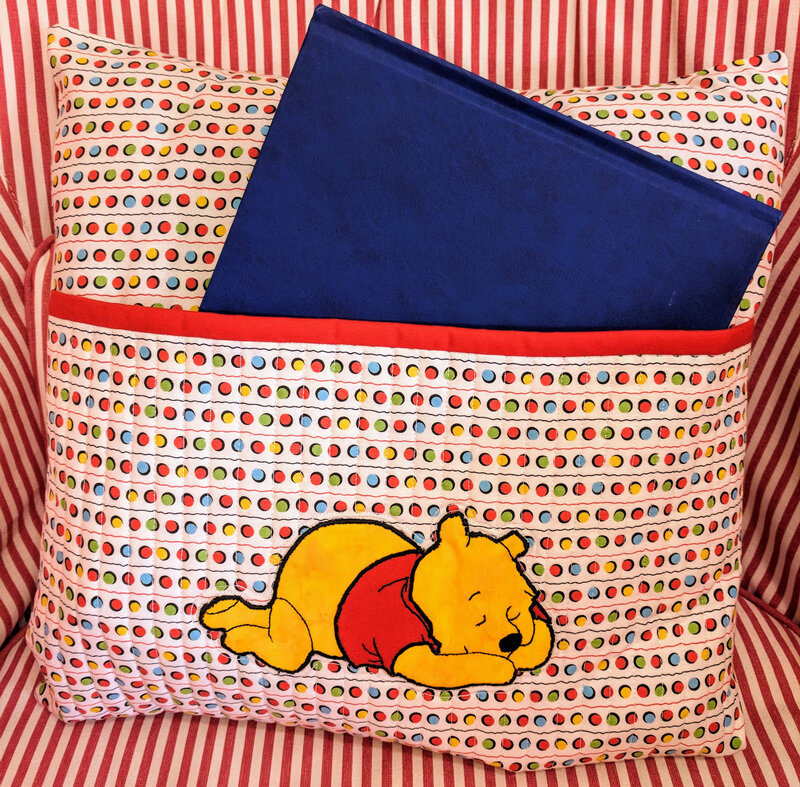 Voici ensemble les deux qui sont partis à l'étranger avant leur départ.
Here are the two together before they went abroad.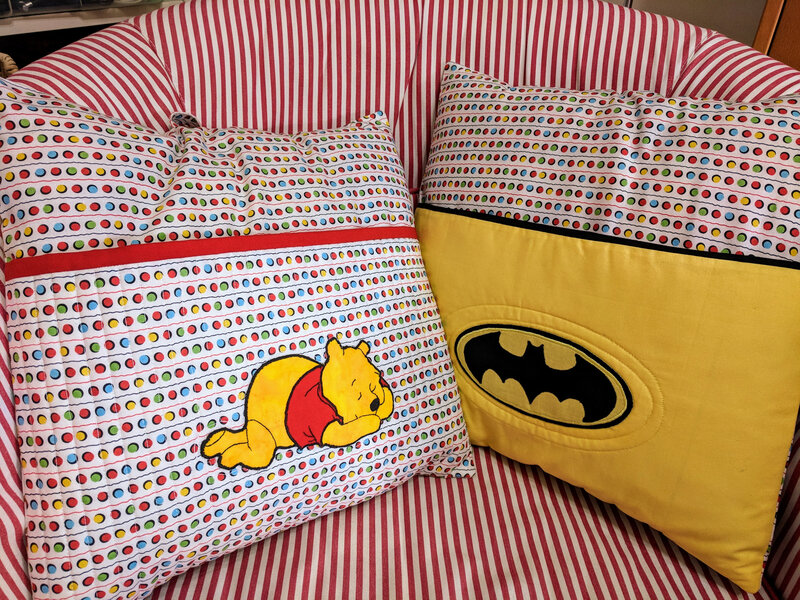 Un dernier ouvrage qui n'était pas prévu au départ est ce petit sac. Il est fait avec les restes des tissus que j'ai utilisés pour le quilt bébé pour la même petite-fille, et donc j'ai trouvé normal de le lui offrir. Le modèle m'a été donné par une amie dans mon groupe de patch.
A final project that I hadn't planned on to begin with is this little bag. I made it with "leftovers" from the baby quilt I made for the same granddaughter, so I thought it was fitting to give it to her. A quilt-group friend gave me the pattern.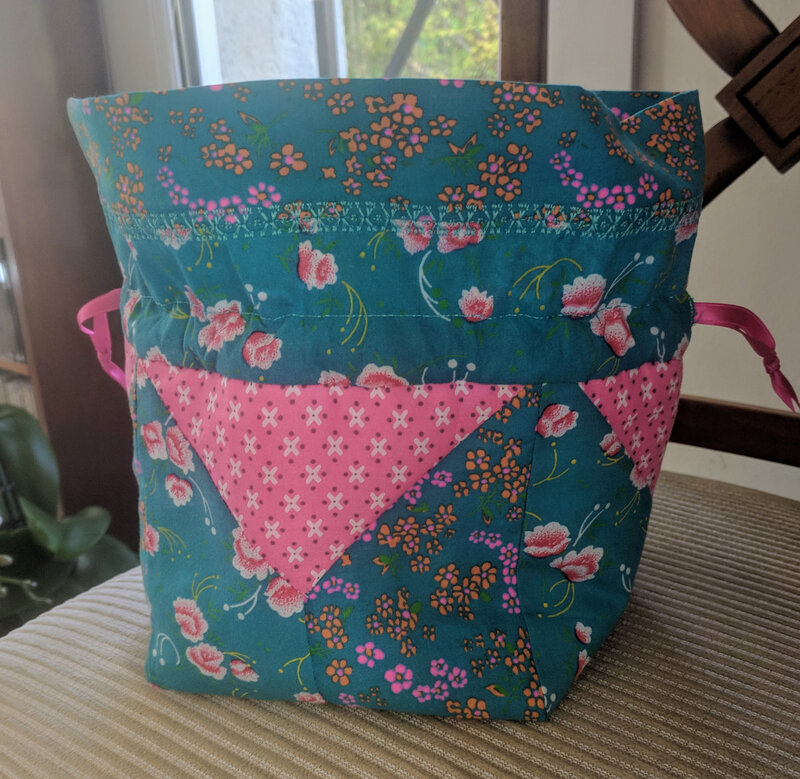 Commentaires
Poster un commentaire