18 septembre 2017
Terminé!
Après des mois bien remplis de voyages, de golf et d'amis, me revoilà avec un quilt terminé! Je l'ai commencé il y a plus d'un an, fait une pause pour faire un quilt pour la naissance de ma deuxième petite-fille, et fait de nouveau une pause pour réfléchir à comment le quilter. Puis j'ai fini par découdre tout ce que j'avais déjà fait! Ensuite, profitant d'une nouvelle machine à coudre (une Bernina 770, une vraie merveille!), j'ai recommencé le quilting. Je dois dire que j'ai bénéficié d'excellentes pistes de la part de KathleenQuilts, qui est une vraie experte. Le quilting est un mélange de piqué-libre et de travail avec des règles. Allez, sans plus attendre, je vous présente "A Rainbow of Bubbles"! (Cliquez sur les photos pour voir les versions plus grandes.)
After a number of months filled with trips, golf and friends, I'm finally back with a finish! I began this quilt over a year ago, took a break to make a baby quilt for my second granddaughter, and took another break to think about how to quilt it. After all of that, I ended up ripping out everything I'd already quilted! Then, taking advantage of a new sewing machine (a Bernina 770 - what a gem!), I started over on the quilting. I have to give credit to the excellent suggestions given to me by KathleenQuilts, who is a real expert. The quilting is a mix of free-motion quilting and ruler work. Now, without further ado, here is "A Rainbow of Bubbles"! (Click on the photos to see bigger versions of them.)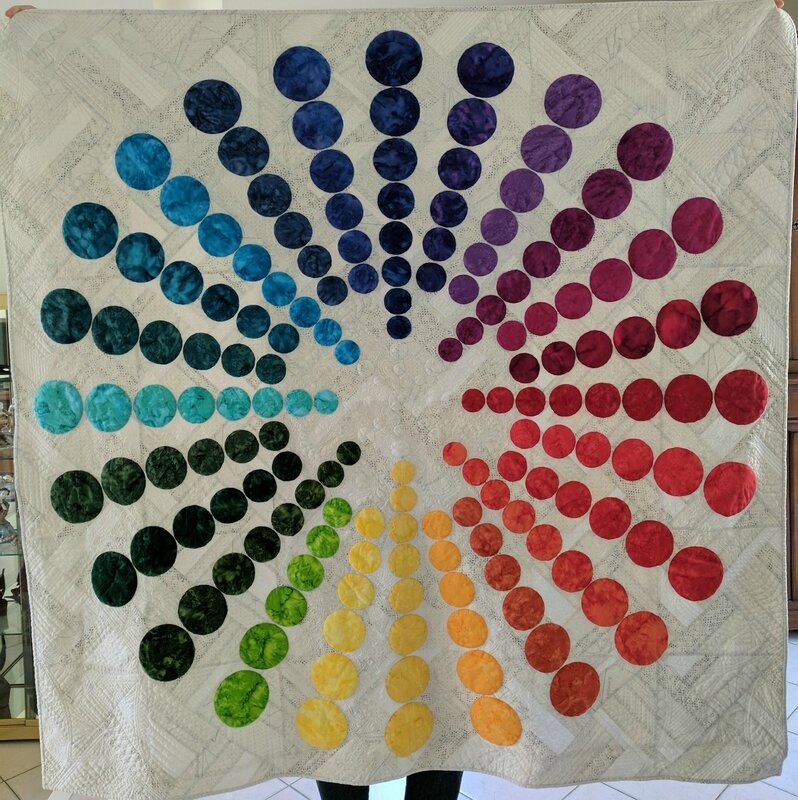 Le voici / Here it is!
Gros plan sur le centre avec des cercles supplémentaires / Close-up of the center with ghost circles.
Le quilting dans un des coins extérieurs / The quilting in one of the outer corners.
Le quilting (des tourbillons) entre les rayons / The swirls quilted between the "rays".
Une plume comme transition entre le centre et les tourbillons / A feather serving as a transition between the center and the swirls.
Et cerise sur le gâteau, mon mari adore ce quilt! / And the best part is, my husband absolutely loves it!
Commentaires
Poster un commentaire