07 février 2019
Vivent les couleurs vives!
Les petits projets étant rapides à faire, en voici encore un, terminé depuis deux jours! Je souhaitais protéger ma machine à coudre de la poussière quand elle n'était pas en marche, et la housse qui a été livrée avec elle ne me plaisait pas du tout (gris et triste!). Alors hop! j'en ai fabriqué une plus à mon goût! Le modèle pour la machine en paper piecing vient de Quiet Play, et tous les tissus sont des restes d'autres projets déjà faits. J'ai inventé le modèle pour la housse elle-même en me basant sur les dimensions de ma machine, et j'ai fini les bords avec ("what else?") un biais arc-en-ciel. Le quilting est simple, juste des lignes droites, même si quelques-unes sont en chevron.
Small projects are so quick to make, so here's another one that I finished just two days ago! I wanted to protect my sewing machine from dust when I wasn't using it, and I don't like the cover that came with it at all (it's sad and grey all over). So I simply made one that is more to my liking! The pattern for the paper-pieced machine comes from Quiet Play, and all the fabric is left over from other projects. I made up my own pattern for the cover based on the measurements of my machine, and I finished the edges with ("what else?") a rainbow binding. I kept the quilting simple with straight lines, although in a few places they form chevrons.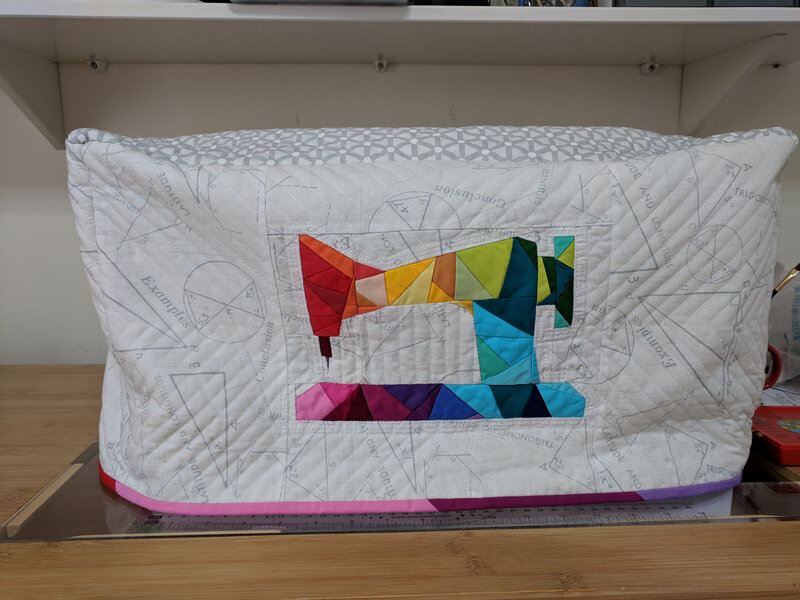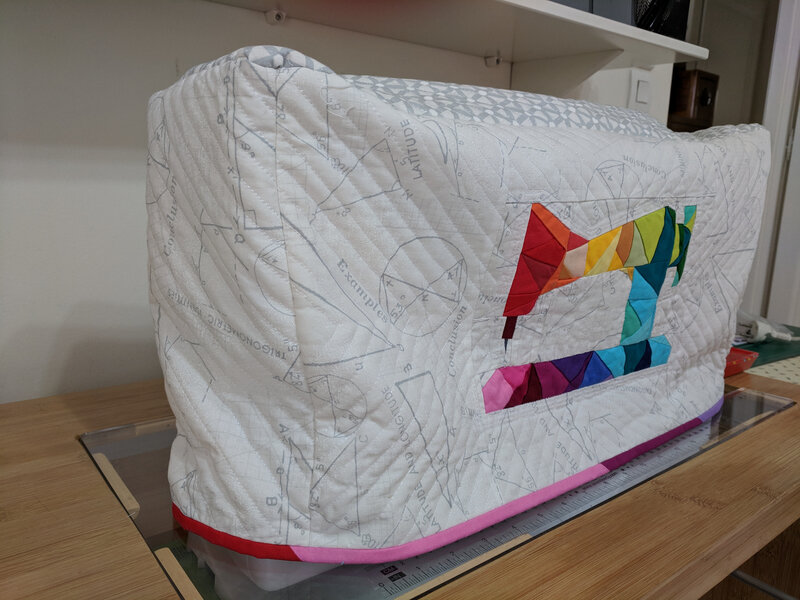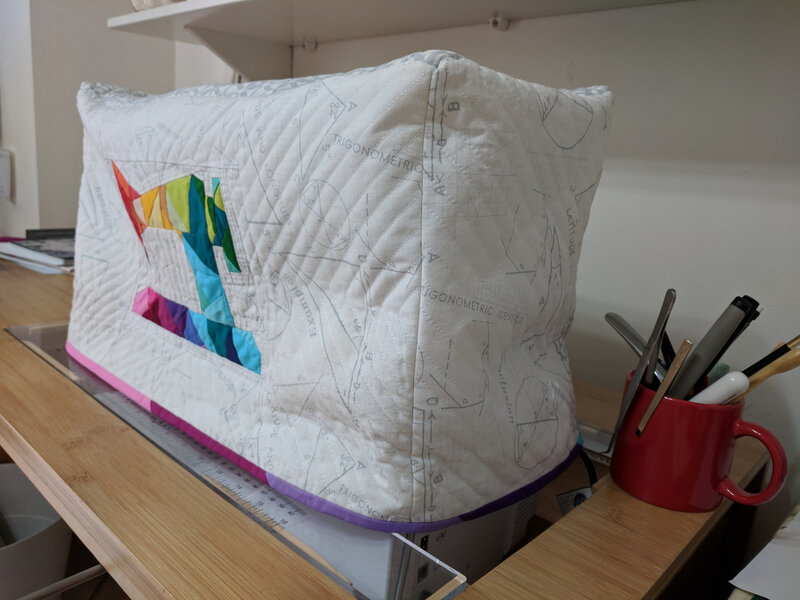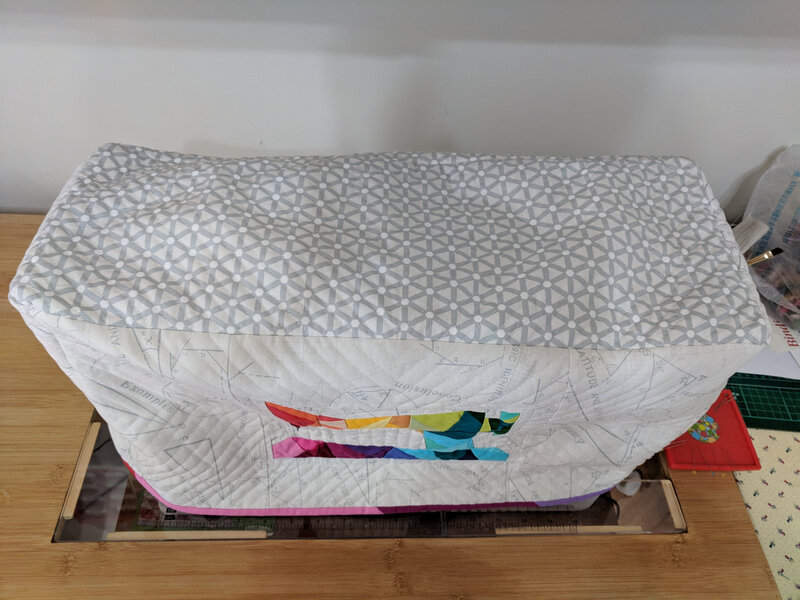 Coïncidence heureuse: les tissus du fond de la housse sont les mêmes que ceux que j'ai utilisés pour mon pique-aiguille/porte outils!
And a happy coincidence: the fabrics for the body of the cover are the same as the ones I used for my pincushion/tool caddy!
05 février 2019
Trop tôt pour Noël?
En novembre 2017, je suis allée au Quilt Festival à Houston, où j'ai été séduite par un modèle de décoration de Noël (modèle de chez Happy Hollow Designs). J'ai donc acheté le modèle et le kit pour le décorer. J'ai manqué de temps pour le faire avant Noël cette année-là, et avait prévu de le faire par la suite. Des problèmes de santé ont retardé la fabrication, et ce n'est qu'au mois de janvier que je m'y suis mise! Mais plutôt que de dire que je suis en retard, je préfère penser que je suis en avance pour Noël prochain!
In November 2017, I went to the Houston Quilt Festival where I saw a lovely Christmas decoration (model by Happy Hollow Designs). I liked it so much that I bought the pattern and decoration kit, but then ran out of time to make it before Christmas of that year. Health problems kept me from making it for some time, so it was January of this year before I got back to it! However, rather than say that I'm late making it, I prefer to think I'm in advance for next Christmas!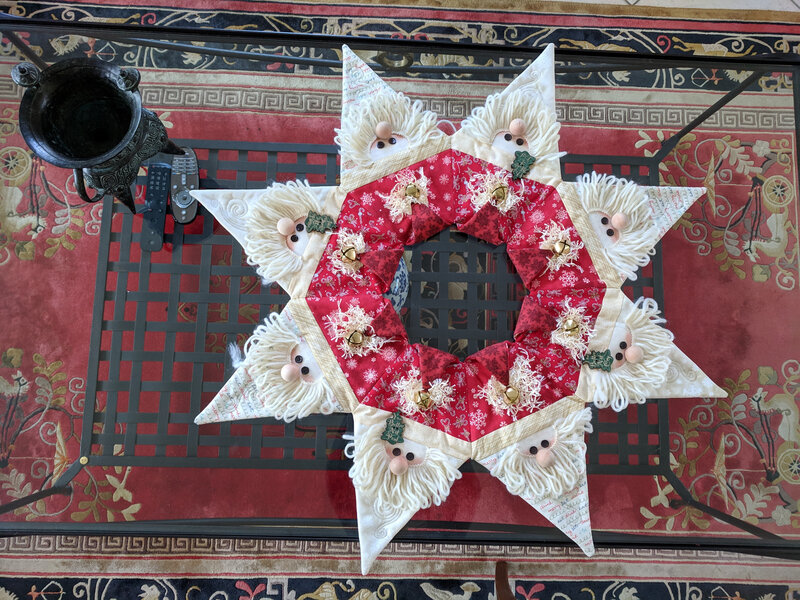 Il est assez grand (82 cm), mais il peut se mettre sur une table, comme dans l'image, ou être suspendu au mur.
It's rather big (32"), but it can go on a table, as in the photo, or hang on a wall.
03 février 2019
Un peu de décoration
Je ne sais pas si, comme moi, vous n'aimez pas voir les boîtes de mouchoirs en papier, souvent assez laides et pas assorties au décor de la pièce où elles se trouvent. C'est pour cette raison que j'ai décidé (enfin!) d'agir et de faire des housses pour mes boîtes. C'était assez simple à faire, finalement; il suffit de mesurer les dimensions des boîtes qu'on a l'habitude d'acheter et de prendre ces mesures comme point de départ. Voici celles que j'ai faites.
I don't know if you're like me and dislike seeing Kleenex boxes that are often relatively ugly and not a good match for the decor of the room they're in. That dislike is why I (finally!) decided to do something about the situation and make covers for my boxes. It turned out to be fairly simple to do, in fact; I simply measured the boxes I usually buy and then used those measurements as the basis for making the covers. Here are the ones I made.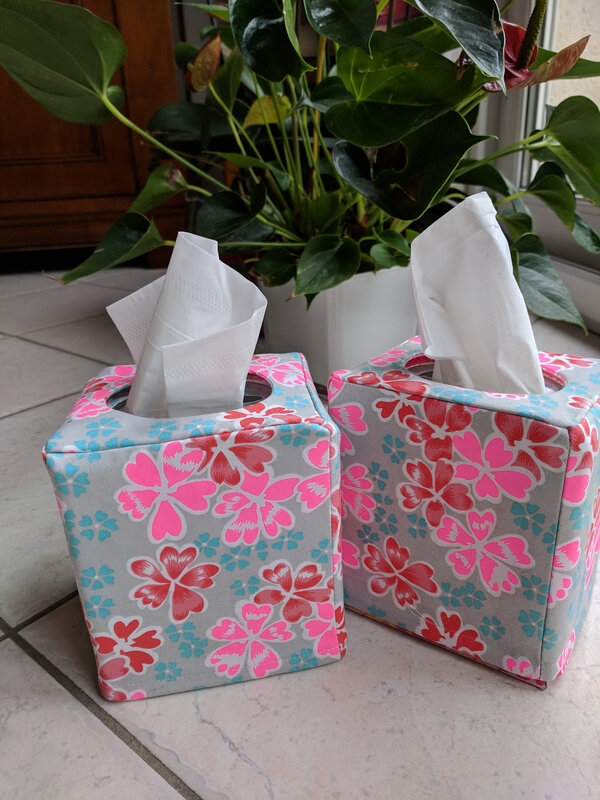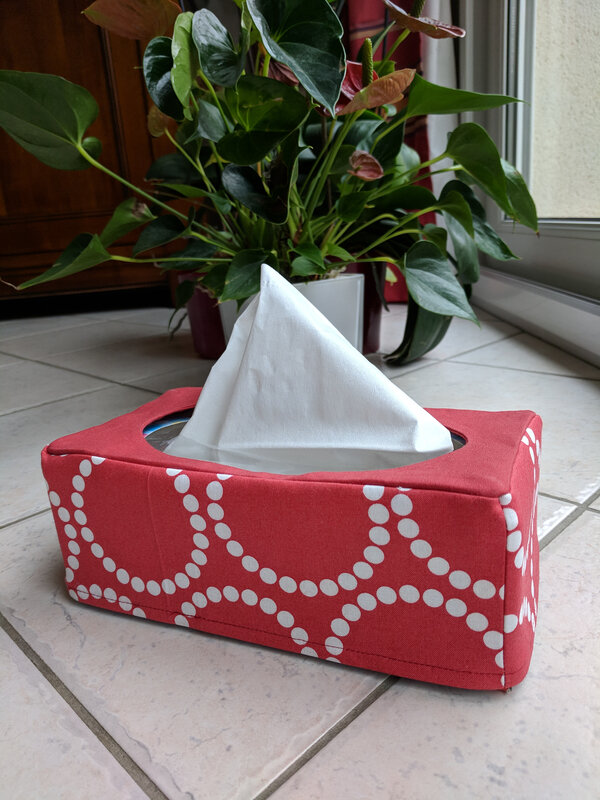 05 novembre 2018
Sac à bijoux
Voici encore un petit projet, bien maniable sous l'aiguille de ma machine. Il s'agit d'un sac à bijoux, à utiliser lors de voyages.
Here's another small project that was easy to maneuver under my machine's needle. It's a jewelry case, useful for travel.
Pour le réaliser, il m'a fallu acheter l'accessoire pour coudre en cercles, un accessoire qui existe pour beaucoup de machines.
To make it, I needed to purchase an accessory for stitching in circles, an accessory that is available for many brands of machines.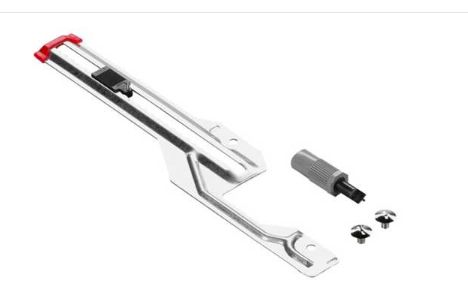 Une fois le choix des points décoratifs fait, il est simplissime d'en faire des cercles parfaits! La fermeture éclair à également été appliquée avec cet accessoire. Voilà donc le sac ouvert.
Once the decorative stitches have been chosen, it's simplicity itself to stitch them out in perfect circles! The zipper was inserted with the same accessory. So here's the case opened out.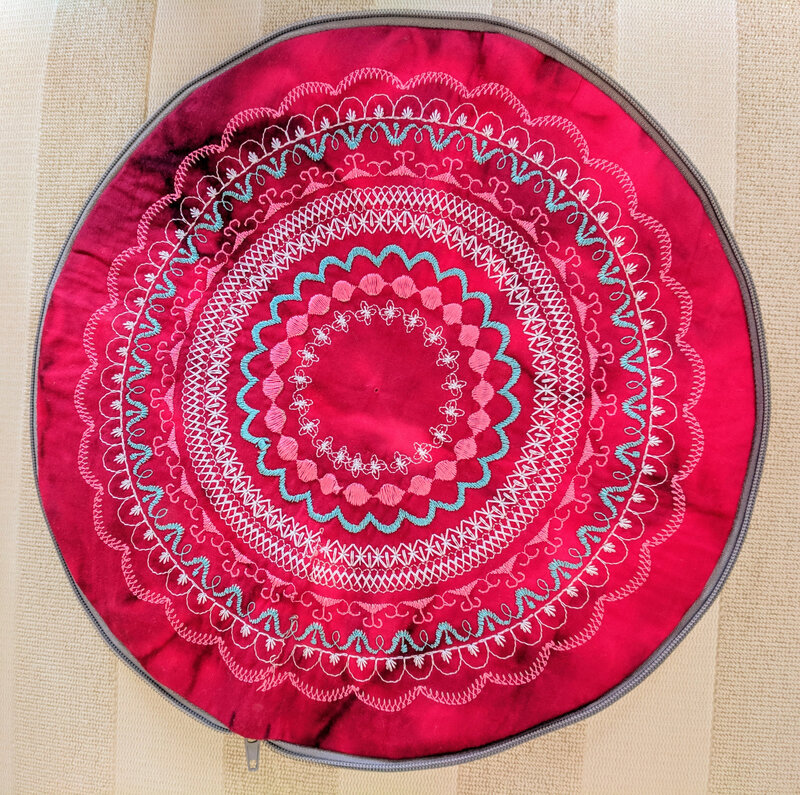 20 octobre 2018
Cadeaux!
J'ai quand même fait d'autres choses depuis ces derniers mois, mais elles étaient déstinées à être des cadeaux, et donc je ne pouvais pas vous les montrer avant de les avoir offertes! Mais ça y est, je peux enfin vous les montrer. Pour trois de mes petits-enfants, j'ai eu l'idée de leur fabriquer des coussins de lecture, une idée que j'ai vue en ligne sur plusieurs sites. Ils ont des poches pour ranger le livre qui est en cours (ou toute autre chose!), et j'ai choisi de les agrémenter de motifs appliqués qui rappellent les intérêts de chaque enfant.
Don't think I haven't made anything during these past months, but what I made was a series of gifts, so I couldn't show them to you before they were received! But they are now in their new homes and I can finally show them to you. I got the idea to make reading cushions for three of my grandchildren, having seen some on several web sites. They have pockets to hold the book that is being read (or anything else, for that matter!), and I decided to put appliquéed motifs of each child's "thing" on them.
Le premier a été offert à mon petit-fils fasciné par les tractopelles, et j'ai repris un dessin trouvé en ligne pour le reproduire en tissu.
The first one was for a grandson who is fascinated by backhoes, and I found a picture online that I reproduced in fabric.
Ensuite, je l'ai appliqué sur la poche du coussin. / Then I appliquéed it onto the cushion's pocket.
Pour mes deux petits-enfants à l'étranger, j'ai également trouvé des images en ligne pour ensuite les fabriquer en tissu et les appliquer sur les poches.
For the two grandchildren who are overseas, I also found pictures online and made them up in fabric before appliquéing them onto the pockets.
L'aîné est passionné de super-héros; malheureusement, le jaune du fond de la poche est délavé dans cette photo mais plus apparent dans la suivante!
The eldest grandson is crazy about superheroes. Unfortunately, the yellow background is washed-out in this photo, but a better match in the next one!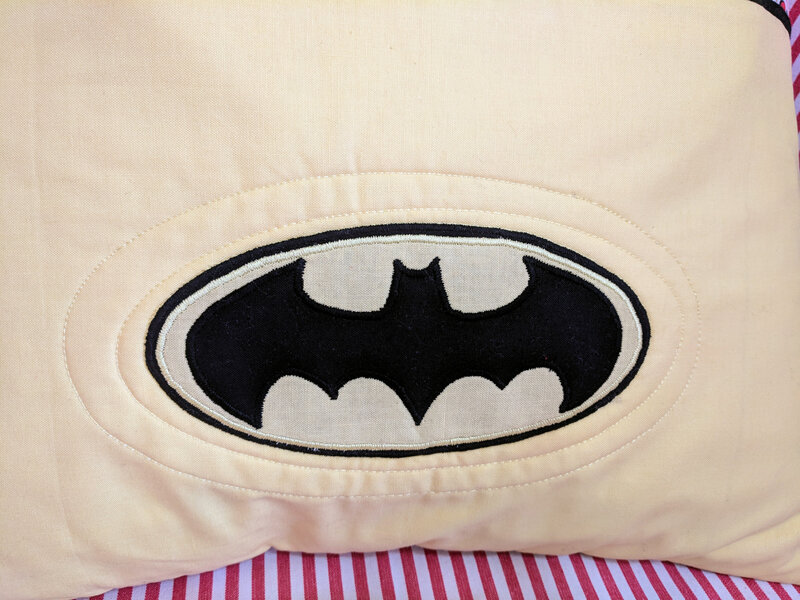 Ma petite-fille est fan de Winnie!
And my granddaughter is a Winnie-the-Pooh fan!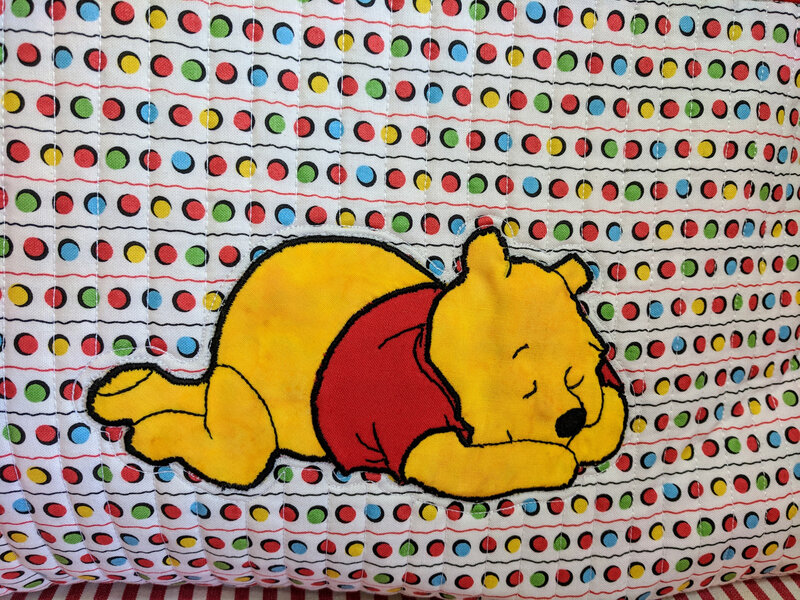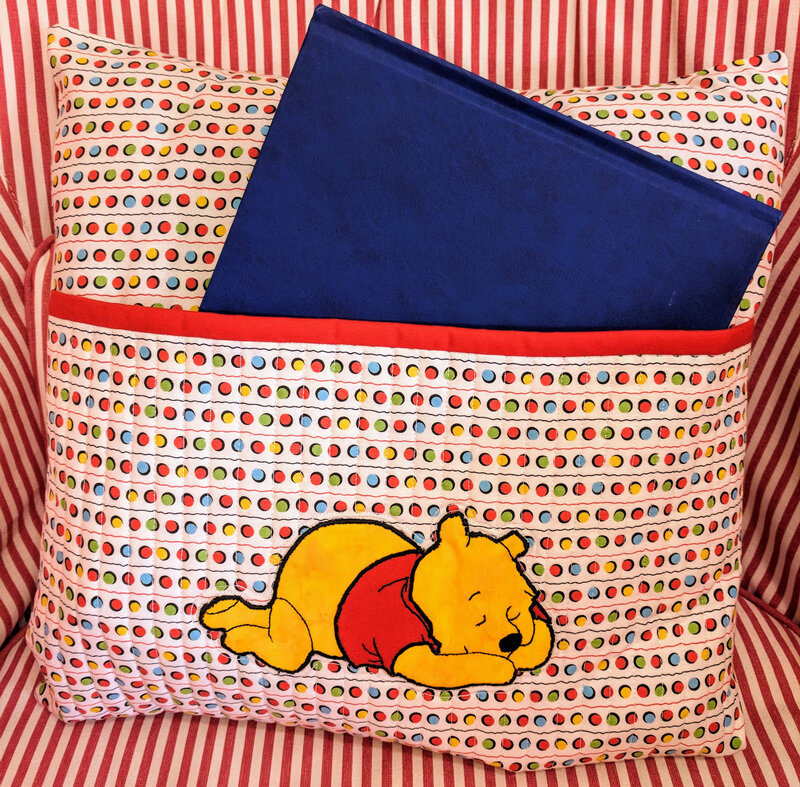 Voici ensemble les deux qui sont partis à l'étranger avant leur départ.
Here are the two together before they went abroad.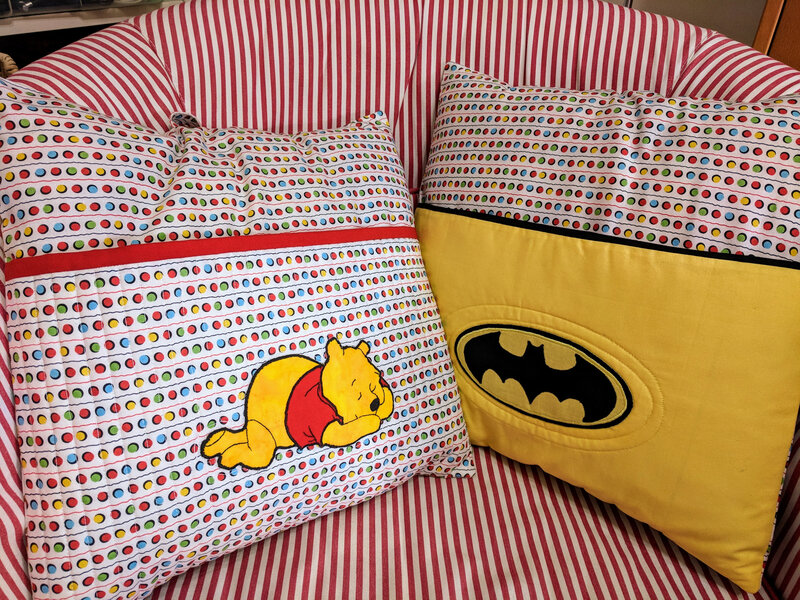 Un dernier ouvrage qui n'était pas prévu au départ est ce petit sac. Il est fait avec les restes des tissus que j'ai utilisés pour le quilt bébé pour la même petite-fille, et donc j'ai trouvé normal de le lui offrir. Le modèle m'a été donné par une amie dans mon groupe de patch.
A final project that I hadn't planned on to begin with is this little bag. I made it with "leftovers" from the baby quilt I made for the same granddaughter, so I thought it was fitting to give it to her. A quilt-group friend gave me the pattern.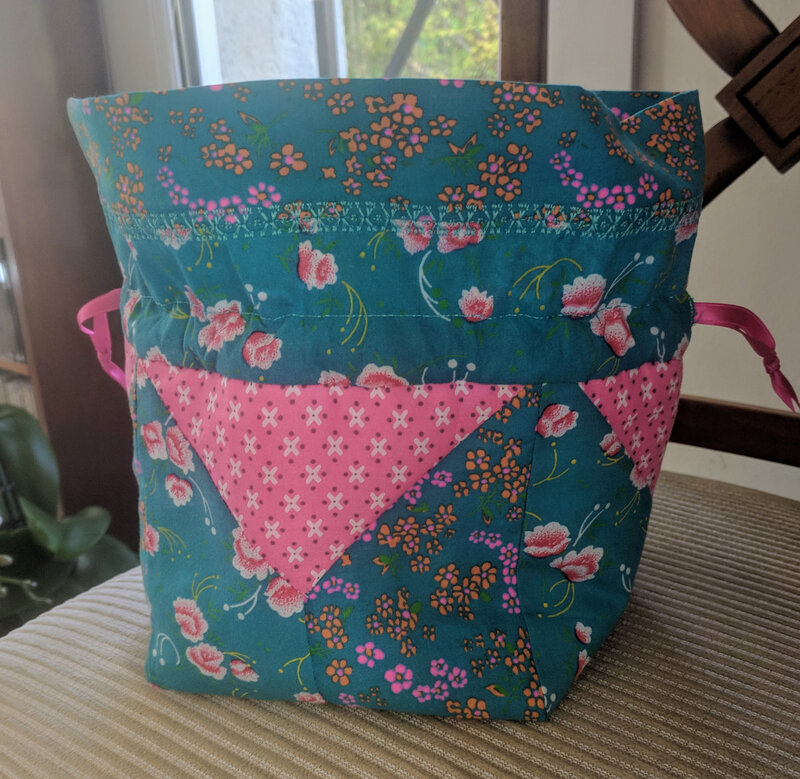 18 juillet 2018
Une licorne rose
Après une très longue absence à cause d'un ennui de santé, je me remets doucement au patch. Pour l'instant, je ne peux pas travailler sur mes projets en cours car ils sont trop grands et lourds, mais j'ai quand même pu faire un petit projet pour une naissance! Une de mes amies est très douée en peinture et a fait quelque chose pour la naissance de chacun de mes petits enfants, alors j'ai décidé de faire un petit patch à mettre au mur pour la naissance de sa première petite-fille. J'ai trouvé le modèle pour une jolie licorne en paper-piecing ici, et comme j'ai estimé que c'était quelque chose que je pouvais faire pendant ma convalescence, je l'ai fait! Voici, donc, le travail!
After a very long absence because of a health problem, I'm slowly getting back into quilting. Right now, I can't work on my in-progress projects since they're too big and heavy, but I was able to make a small wall-hanging as a baby gift! One of my friends is a talented painter and has made something for each of my grand-children when they were born, so I decided to make a little wall-hanging to welcome her first granddaughter. I found the pattern for this cute paper-pieced unicorn at QuiettPlay and thought it was something I could make during my convalescience. So with no further ado, here it is!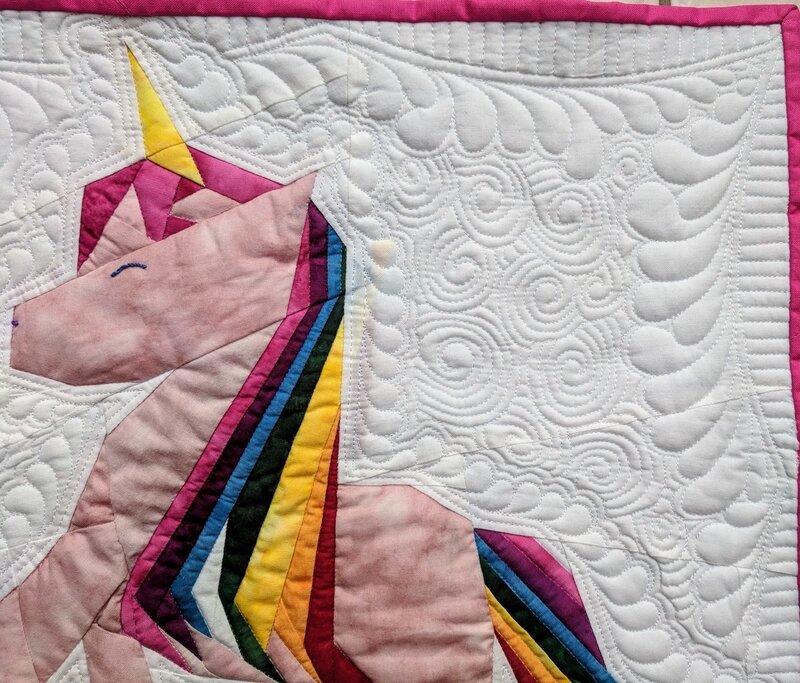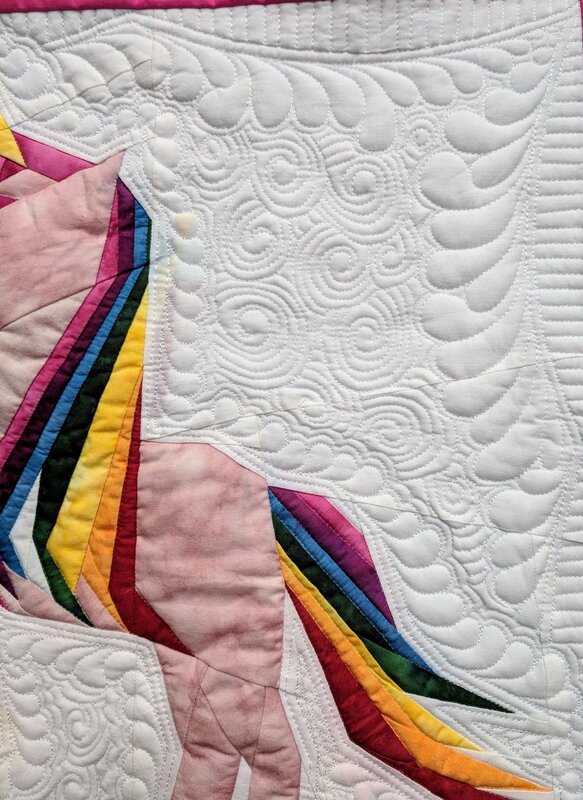 12 février 2018
Trop tôt pour Noël?
J'ai démarré ce quilt en mai dernier, et l'ai mis de côté pour diverses raisons. Cependant, il est terminé maintenant et prêt à s'ajouter à nos décorations de Noël en décembre prochain! Un peu en avance, je vous l'accorde, mais au moins comme ça je n'oublierai pas de le finir!
I began this quilt last May and then put it aside for various reasons. It's finished now, however, and ready to be added to our Christmas decorations next December! It's a little early, I agree, but at least I won't forget to finish it in time now!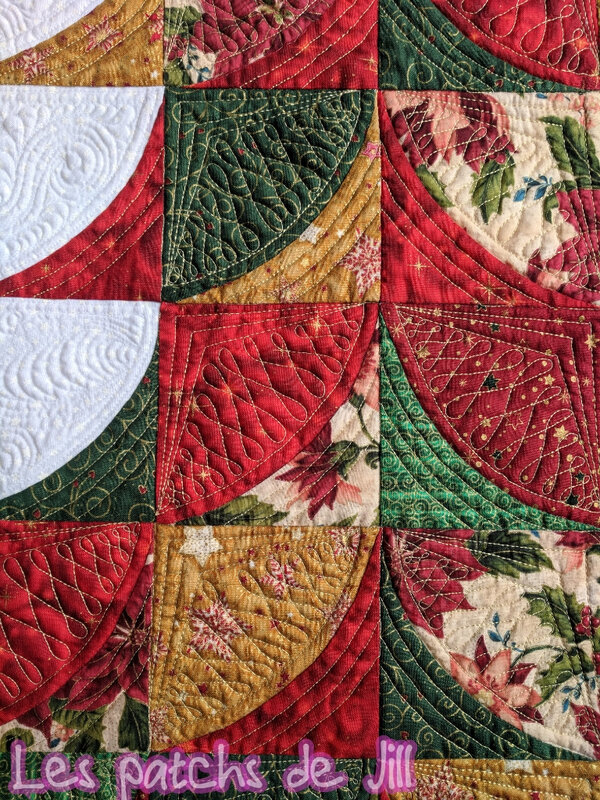 Voici un gros plan du quilting dans le sapin. Fil Magnifico de Superior Threads.
Here's a close-up of the quilting in the tree. I used Superior's Magnifico for this.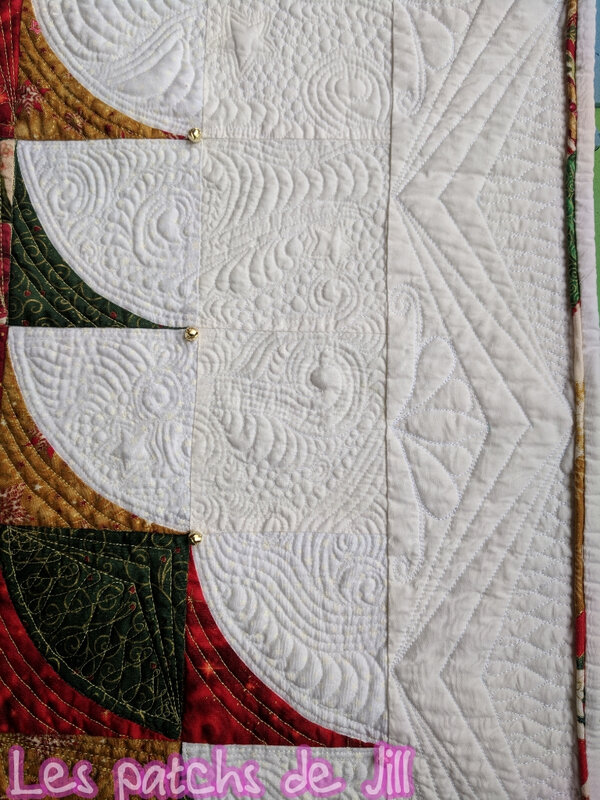 Et voici le quilting dans le fond; c'est un mélange de piqué libre et de quilting avec des règles. J'ai utilisé un fil très fin pour ceci, l'Invisifil.
And here's a close-up of the background; the quilting is a combination of FMQ and ruler work. I used fine Invisifil for this.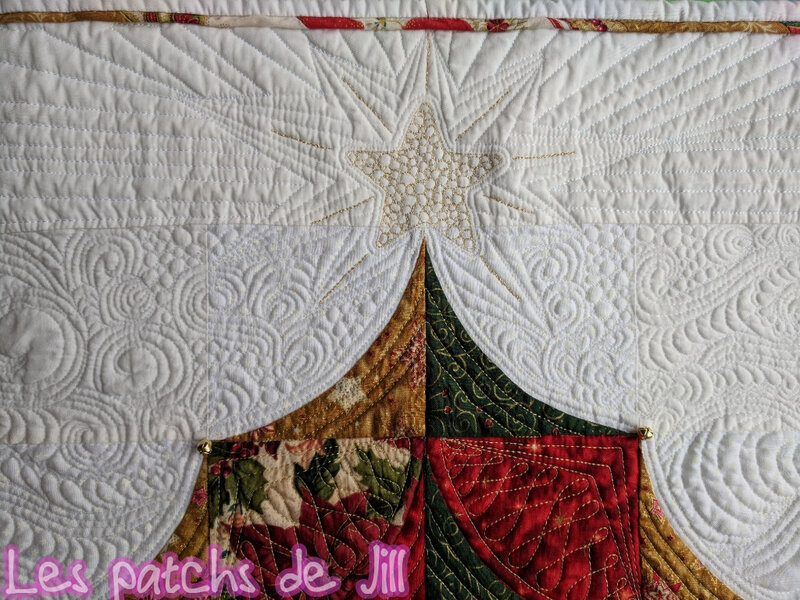 Ceci est un grand premier pour moi: j'a fait cette étoile avec du fil métallisé, et je trouve qu'il rend très bien!
This is a first for me: I stitched this star with metallic thread, and I think it came out quite well!
23 novembre 2017
Nouveau quilt!
Les débuts... / The beginning...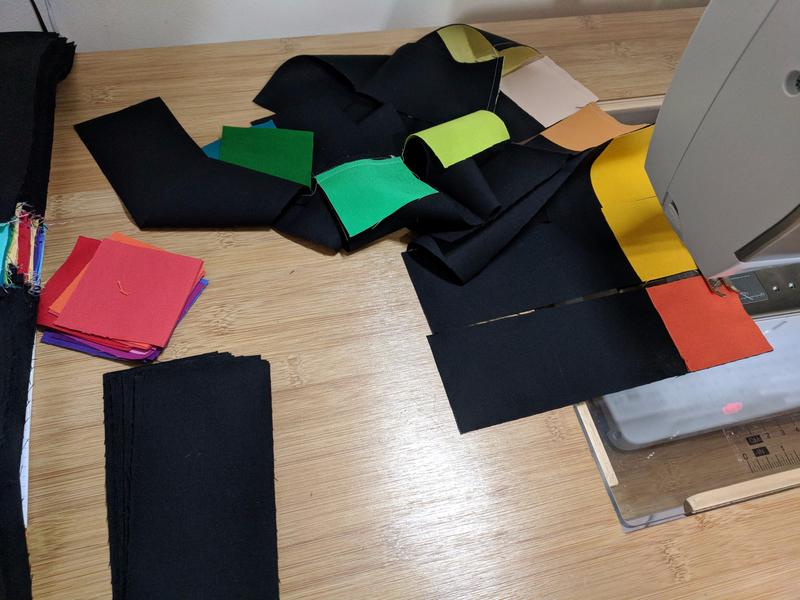 08 novembre 2017
Houston!
Avez-vous entendu parler de l'International Quilt Festival à Houston? C'est le plus grand salon de quilt au monde, et c'est tout simplement fabuleux! J'y suis allée la semaine dernière, avec mes amies Josette et Annie, et nous nous sommes régalées! D'abord, l'organisation est hors pair, les allées larges et bien indiquées, les stands grands et beaux, l'infrastructure au top. Mais surtout, on y voit des centaines de quilts, les uns plus merveilleux que les autres; il y en a pour tous les goûts et de tous les styles. Voici une photo d'une petite partie du salon pour donner une idée de la taille des allées.
Have you heard of the International Quilt Festival in Houston? It's the biggest quilt show in the world, et it's simply fabulous! I went to it last week, along with my friends Josette and Annie, and we had the most wonderful time! To begin with, it's extremely well organized, the aisles are wide and well indicated, the stands big and beautiful, the infrastructure amazing. But above all there are literally hundreds of quilts, each more gorgeous than the next; there are quilts for every taste and in every style. Here's a photo of a small part of it just to show you the size of the aisles.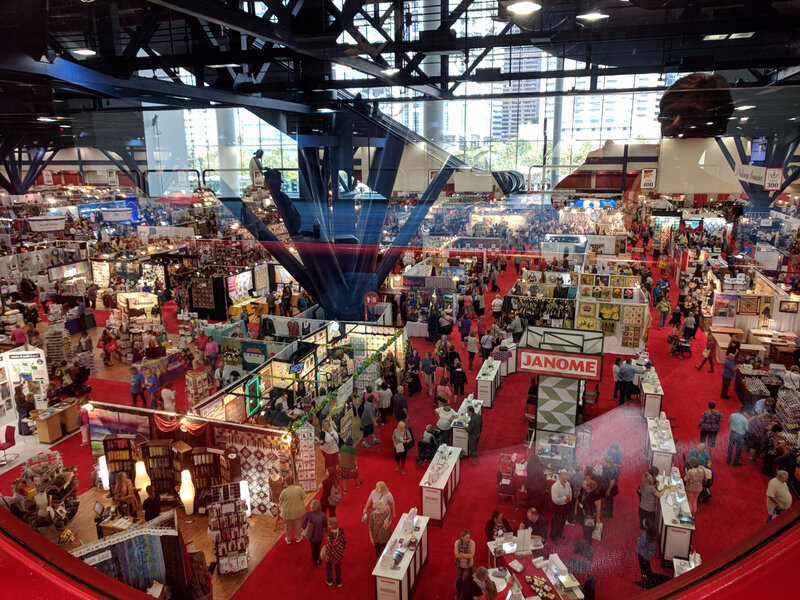 Nous avons fait des emplettes, bien sûr! Pour ma part, j'ai acheté des fils divers, certains que j'utilise déjà et d'autres pour les essayer. J'ai fait d'autres achats (photo ci-dessous!), mais j'ai aussi passé des heures à admirer les quilts!
We shopped, of course! I picked up some different threads, some that I'm used to using and some that I want to try out. I treated myself to a few other things (photo below!), but I also passed several hours admiring the quilts!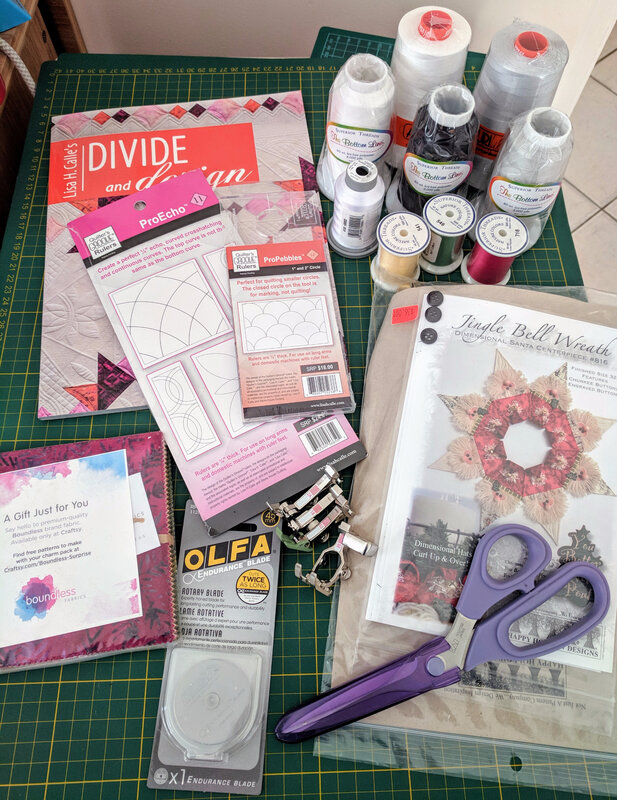 Ce n'est pas tout, cependant! Je me suis inscrite à deux cours sur le quilting machine avec des "professeurs" qui ont fait des quilts primés. Le premier était un cours de trois heures avec Jenny K. Lyon, qui est très drôle et très encourageante. Annie et moi avons essayé de nouveaux motifs de quilting et écouté des conseils précieux. Le second cours avait lieu sur une journée entière et était enseigné par Philippa Naylor; c'était un cours très riche et dense, rempli d'informations utiles en plus des motifs de quilting qu'elle nous a fait essayer. C'était le troisième cours que je suis avec Philippa, et je n'hésiterai pas à en suivre d'autres à l'occasion!
That's not all, though! I registered for two classes on machine quilting with teachers who have made award-winning quilts. The first was a three-hour class with Jenny K. Lyon, who is quite funny and very encouraging. Annie and I tried out some new quilting motifs and got some wonderful advice. The second class was an all-day class and was taught by Philippa Naylor; it was enriching and amazingly full of information of all kinds, in addition to the quilting motifs she had us practice. It's the third class I've taken from Philippa, and I won't hesitate to take more from her if the opportunity arises!
Tout compte fait, Houston a été une expérience inoubliable et que je recommande!
All in all, Houston was an unforgettable experience, and I highly recommend it!
18 septembre 2017
Terminé!
Après des mois bien remplis de voyages, de golf et d'amis, me revoilà avec un quilt terminé! Je l'ai commencé il y a plus d'un an, fait une pause pour faire un quilt pour la naissance de ma deuxième petite-fille, et fait de nouveau une pause pour réfléchir à comment le quilter. Puis j'ai fini par découdre tout ce que j'avais déjà fait! Ensuite, profitant d'une nouvelle machine à coudre (une Bernina 770, une vraie merveille!), j'ai recommencé le quilting. Je dois dire que j'ai bénéficié d'excellentes pistes de la part de KathleenQuilts, qui est une vraie experte. Le quilting est un mélange de piqué-libre et de travail avec des règles. Allez, sans plus attendre, je vous présente "A Rainbow of Bubbles"! (Cliquez sur les photos pour voir les versions plus grandes.)
After a number of months filled with trips, golf and friends, I'm finally back with a finish! I began this quilt over a year ago, took a break to make a baby quilt for my second granddaughter, and took another break to think about how to quilt it. After all of that, I ended up ripping out everything I'd already quilted! Then, taking advantage of a new sewing machine (a Bernina 770 - what a gem!), I started over on the quilting. I have to give credit to the excellent suggestions given to me by KathleenQuilts, who is a real expert. The quilting is a mix of free-motion quilting and ruler work. Now, without further ado, here is "A Rainbow of Bubbles"! (Click on the photos to see bigger versions of them.)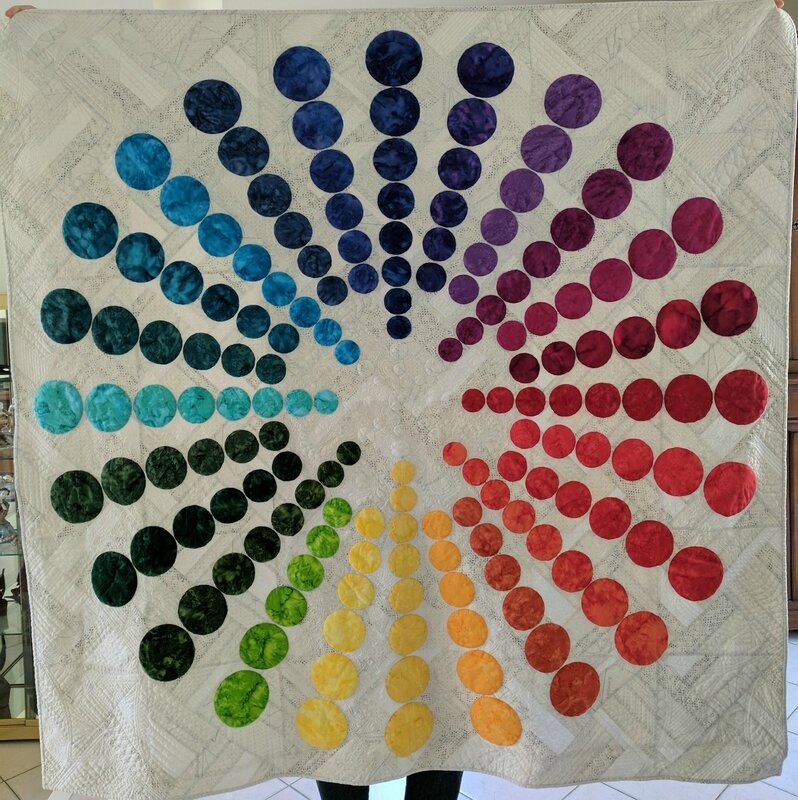 Le voici / Here it is!
Gros plan sur le centre avec des cercles supplémentaires / Close-up of the center with ghost circles.
Le quilting dans un des coins extérieurs / The quilting in one of the outer corners.
Le quilting (des tourbillons) entre les rayons / The swirls quilted between the "rays".
Une plume comme transition entre le centre et les tourbillons / A feather serving as a transition between the center and the swirls.
Et cerise sur le gâteau, mon mari adore ce quilt! / And the best part is, my husband absolutely loves it!