23 septembre 2016
Six mois? Vraiment???
Quelque fois le temps file sans qu'on s'en rende compte, et c'est précisément ce qui m'est arrivé! Entre voyages, sorties, golf, etc., je n'ai pas beaucoup travaillé sur mon quilt pendant les mois d'été. Avant l'été, cependant, j'avais fini d'appliquer tous les cercles sur le fond et je l'ai "mis en sandwich" en utilisant le molleton que je préfère, le Legacy en laine de chez Hobbs.
Sometimes time just races by and we don't even realize it and that's exactly what happened to me! With trips, outings, golf, etc., I didn't do much on my quilt during the summer months. Before the summer, though, I finished appliquéing all the circles onto the background and I sandwiched it with my favorite batting, wool Legacy by Hobbs.
Au début de ce mois, j'ai pu commencer le quilting machine! C'est une étape que j'aime beaucoup, et cette fois j'ai décidé d'essayer quelque chose de nouveau: je voulais m'essayer à du quilting avec des règles comme celles qu'on utilise avec les longarms. Donc, une fois que j'avais quilté tout autour de chaque cercle pour bien stabiliser le tout, j'ai mis des séries d'arcs entre les rangées. Pour ce faire, j'ai utilisé un pied de biche adapté pour les règles, conçu et vendu par Westalee. Il est conçu pour ne pas passer sous la règle, ce qui pourrait avoir des conséquences catastrophiques pour ma machine!
At the beginning of this month, it was time to begin FMQ! I love doing that, and this time I'd decided to try something new to me: I wanted to try quilting with rulers like the ones longarmers use. So, once I'd quilted around each circle in order to stabilize the whole thing, I quilted curved lines between the rows of circles. To do this, I used a special foot made and sold by Westalee. It is designed not to slip under the ruler, which could have catastrophic consequences for my machine!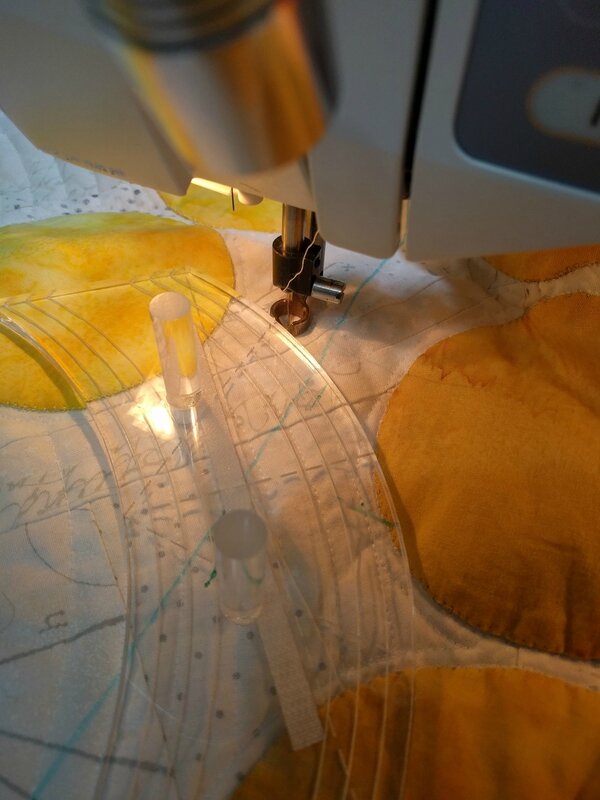 Je suis assez contente du résultat (malgré la manque de perfection!), une jolie texture entre les cercles.
In spite of the imperfections, I'm rather pleased with the resulting texture between the circles.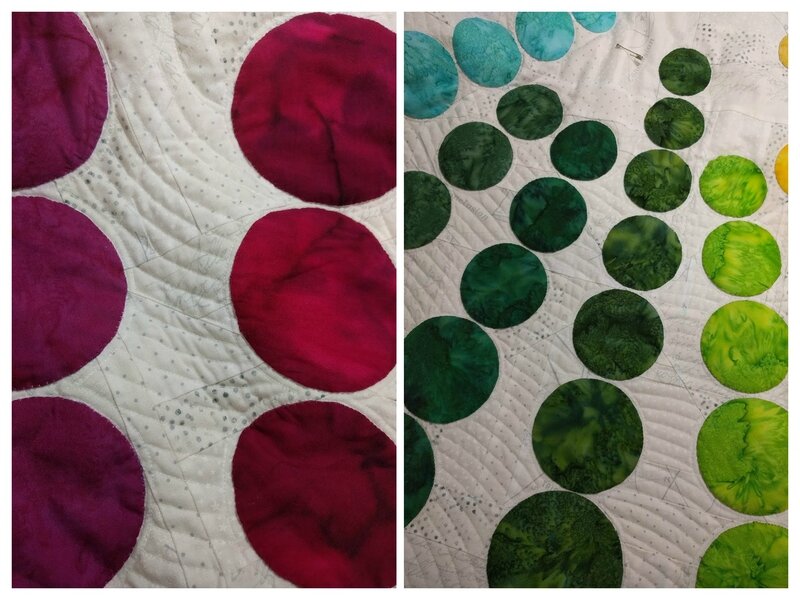 Evidemment, le quilting est loin d'être fini, mais là je le mets en pause pour faire un quilt pour le petit-fils ou petite-fille qui s'annonce!
Of course, the quilting is far from being finished, but I'm pausing it for the time being while I make a quilt for my future grandchild!
27 mars 2016
Faire et défaire..
Mon quilt avance, et voilà que tous les cercles de couleur sont prêts maintenant à être appliqués sur le fond.
My quilt is coming along, and now all the colored circles are ready to be appliquéd on the background.
Une fois ma machine nettoyée et réglée pour le point que je veux utiliser, je commence le travail, ce qui n'est pas une mince affaire quand il s'agit d'un top aussi grand!
Once my machine was cleaned and adjusted to do the stitch I want, I begin the stitching - not an easy job when the top is as big as this one!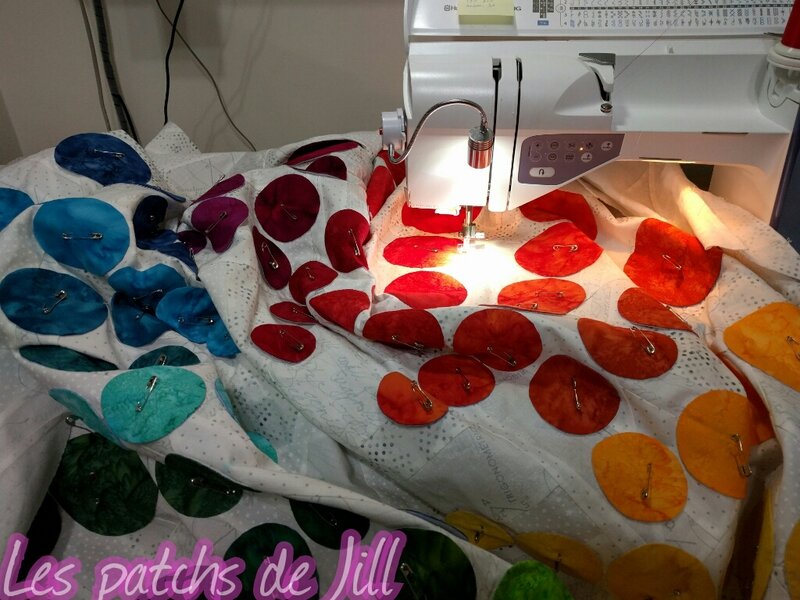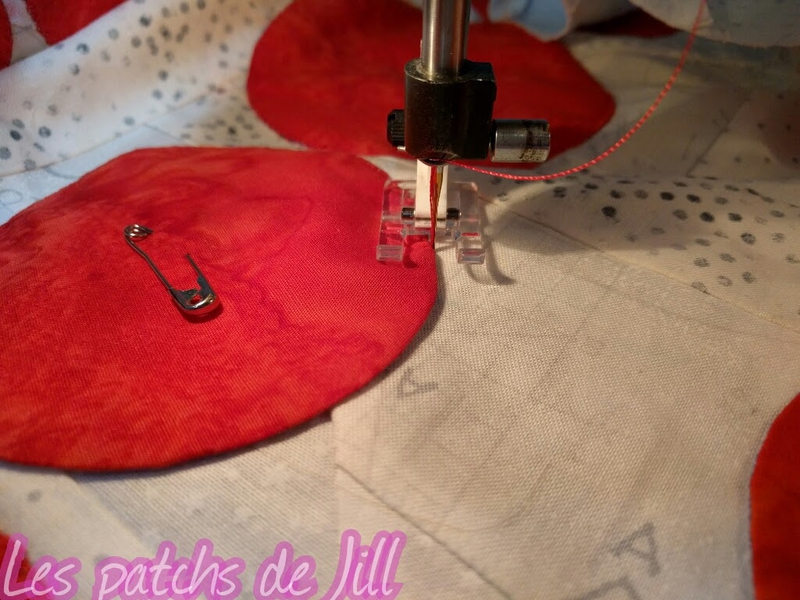 Tout va bien pendant un bon moment...jusqu'à ce que la tension la machine se dérègle! Et c'est vraiment vraiment visible! Je n'ai pas d'autre solution que de défaire, point par tout petit point.
Everything is going swimmingly...until the machine's tension goes wonky! And it's so very visible! There's nothing for it but to unpick each and every tiny stitch.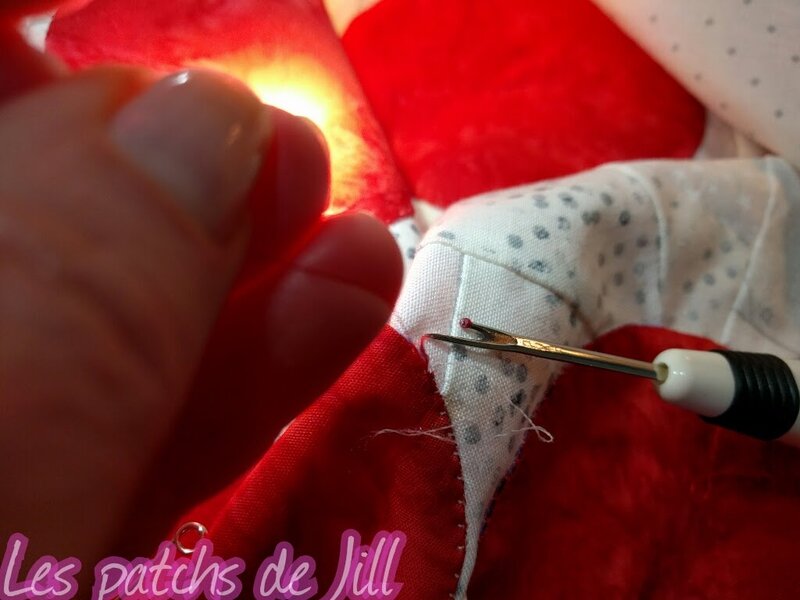 Ca fait partie du jeu! / It's all part of the process!
17 mars 2016
En cours...
Je travaille toujours sur mon nouveau patch dont j'ai déjà posté la photo du fond. Maintenant, je passe au stade de la préparation de l'appliqué, et je travaille avec des tas et des tas de couleurs! Voici une photo de ce que j'ai fait jusqu'ici.
I'm still working on my new quilt, the whose background I already posted here. Now, though, I'm preparing the appliqué, and I'm working with lots and lots of colors! Here's a picture of what I've done so far.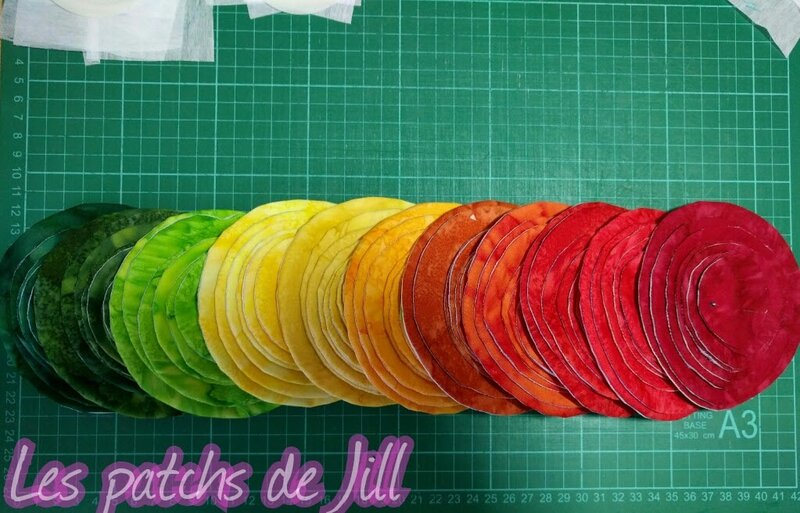 14 mars 2016
Explosion de couleur!
Voici l'arc en ciel qui va fournir les tissus pour l'appliqué de mon quilt en cours. Comme vous pouvez le constater, j'adore les couleurs vives!
Here is the rainbow that I will choose fabrics from for the appliqué on the quilt I'm currently working on. As you can see, I love bright colors!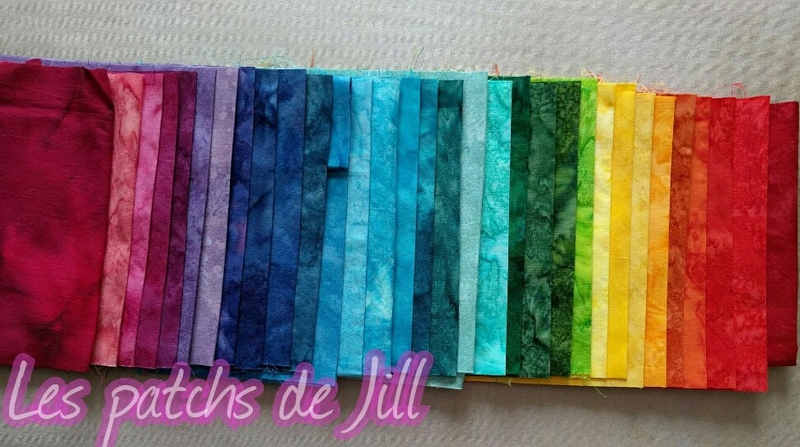 05 mars 2016
Des piles et des piles..
Le plaisir de voir certaines piles diminuer alors que d'autres augmentent!
The pleasure of seeing some piles decrease while others increase!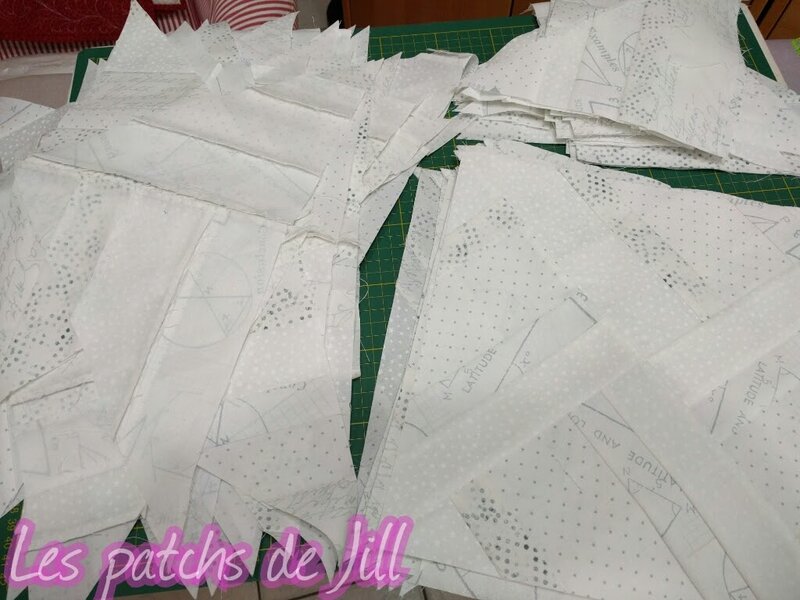 02 mars 2016
Au travail!
Depuis que j'ai terminé le dernier ouvrage, j'ai "séché". Mais cette longue période sans inspiration et sans quilt en cours est enfin terminée. J'ai dessiné un nouveau quilt, acheté des tissus, en ai choisi d'autres parmi ceux que j'avais déjà, et commencé à couper. Ou devrais-je dire, couper, assembler, recouper et ré-assembler! Je vous montre les deux premiers blocs parmi les 16 qui composeront le fond de mon quilt.
After finishing my last project, I hit a dry spell. However, the long period with no inspiration and no on-going quilt project has finally come to an end. I've designed a new quilt, purchased fabrics, chosen others from my meager stash, and begun to cut. Or, I should say, cut, sew together, cut again and sew together yet again! I can show you the first two of the 16 blocks that will make up the background of my new quilt.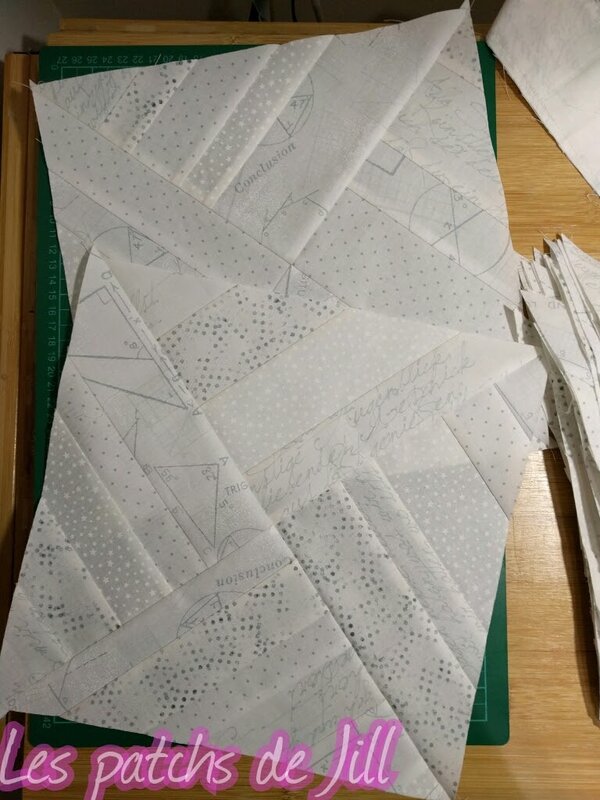 Les tissus sont presque tous de la collection Modern Background par Zen Chic.
The fabrics are almost all from the Modern Background collection by Zen Chic.
01 décembre 2015
Un étui bien astucieux
L'autre jour, en parcourant des sites, je suis tombée sur le modèle d'un étui à ciseaux qui permet de transporter trois paires de ciseaux (ou un cutter) en toute sécurité, et comme j'avais des chutes de tissu et un peu de temps, je l'ai aussitôt fait! C'était l'occasion aussi d'utiliser les points décoratifs de ma machine à coudre. :) J'ai prévu de mettre un joli bouton dessus pour le fermer.
The other day while surfing around various sites, I came across a pattern for a scissors case that holds three pairs of scissors (or a rotary cutter) when going somewhere. And since I had some fabric scraps and a little time, I got right to work on it! It was also the opportunity to try out some of the decorative stitches on my machine. :) I plan to put a pretty button on it to close it.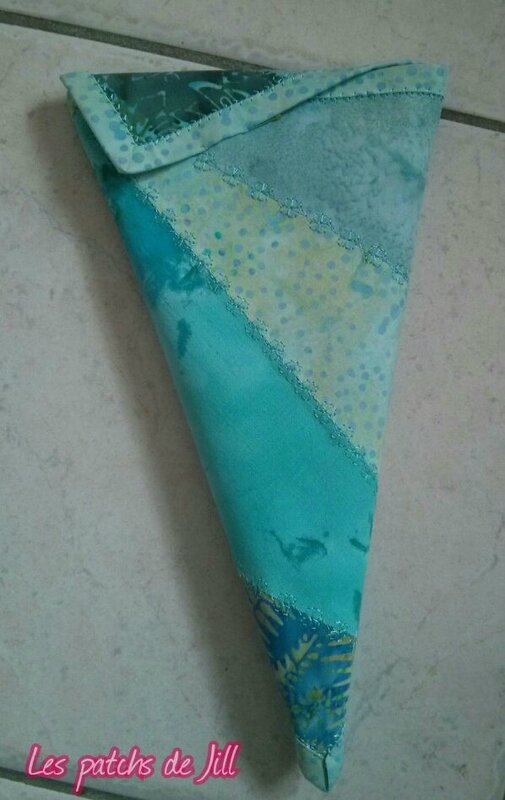 Le devant (fermé) / The front (closed)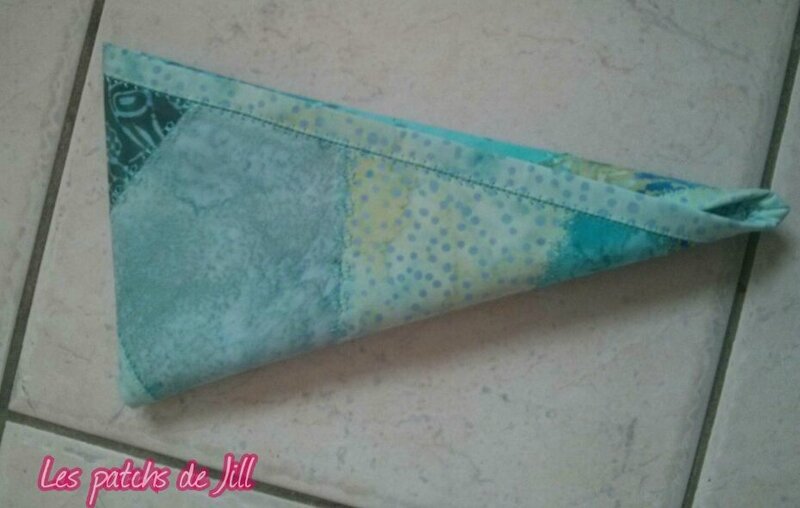 Le dos (fermé) / The back (closed)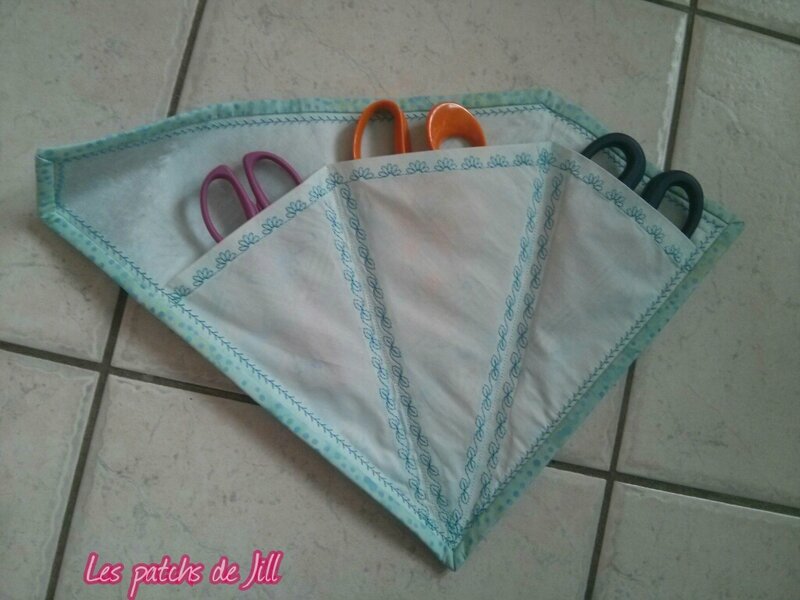 L'intérieur (ouvert) / The inside (open)
24 novembre 2015
Château de Vert-Mont
Dimanche j'ai fait la connaissance d'un château tout près de chez moi mais qui est fermé au public la plupart du temps. Et quel bijou! Si j'ai pu y aller, c'est parce qu'une association de solidarité avec l'Equateur y tenait une expo-vente.
Sunday I was able to visit a manor-house very near where I live but which is usually closed to the public. What a gem! I was able to visit it because a charitable organization was holding a sale of various arts and crafts there.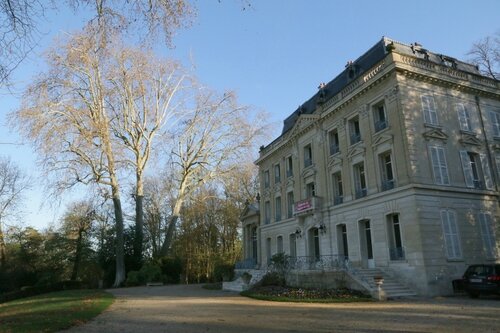 La salle de bains, une merveille d'Art Déco! / The bathroom, a marvelous example of Art Deco!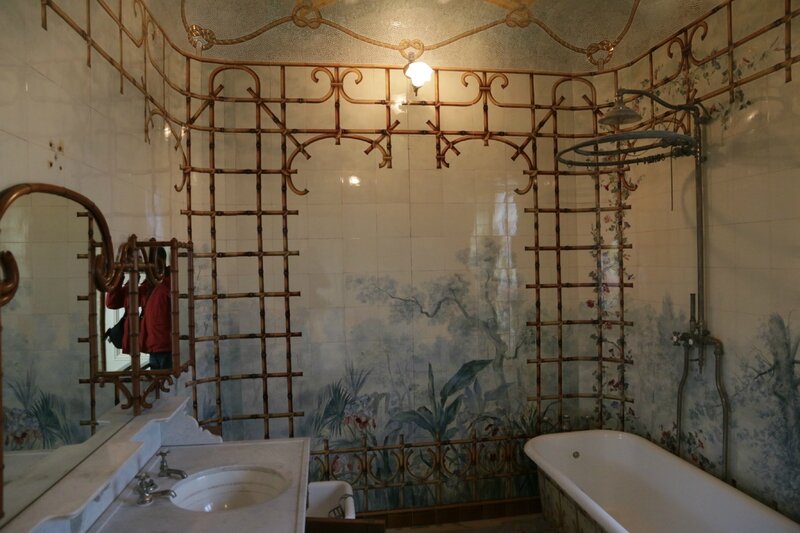 Une des salles où se tenait la vente. / One of the rooms where the sale was being held.
Je me suis laissée tenter par des confitures (maison, bien sûr!), une terrine à tomber, une magnifique boule de Noël peinte par une amie et deux cadeaux à offrir.
I gave in to temptation and bought some homemade jams, a fabulous lamb terrine, a magnificent Christmas ornament that a friend of mine had painted and two other lovely items that will be gifts.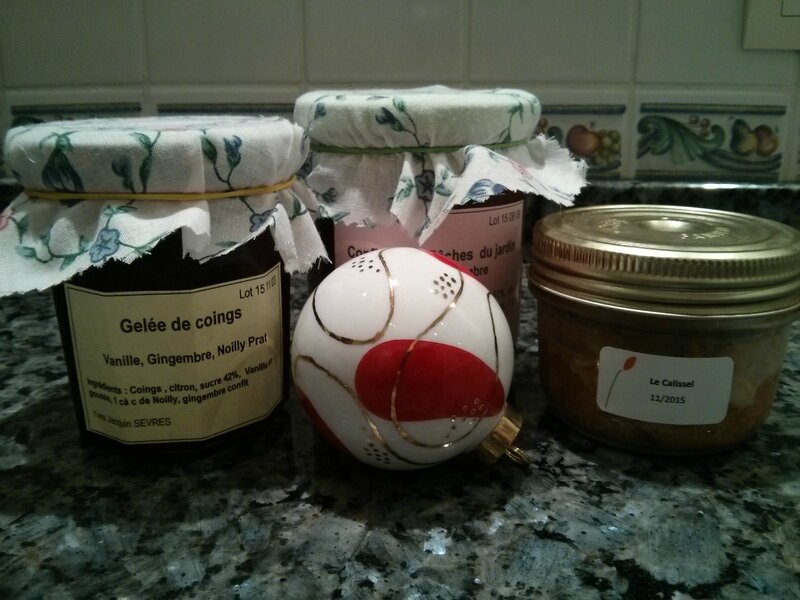 23 novembre 2015
La vie continue malgré tout
Après les terribles événements qui ont eu lieur dernièrement à Paris, je ne me sentais pas le courage de poster sur mon blog. Je n'ai pas été la seule à réagir ainsi. Mais comme on lit partout, la vie continue. Voici donc ce à quoi je m'occupe depuis quelque temps.
After the terrible events in Paris recently, I didn't feel much like posting anything on my blog. Many other people had the same reaction. But as we read everywhere, life does go on. So here is what I've been working on.
D'abord, une de mes copines de patch a modifié un modèle pour un petit sac. Le petit sac est super mignon, mais pas très logeable, et c'est pourquoi Dominique l'a retravaillé. De mon côté, j'ai pris ses modifications et les ai encore modifiées! Il manque encore une fermeture car j'hésite entre plusieurs possibilités dont aucune ne m'emballe vraiment! Mais ça viendra...
First, one of my quilting friends modified a pattern for a little bag. The little bag is really really cute, but doesn't hold very much, and so Dominique worked up a larger model. Then I took her modifications and modified them some more! The bag doesn't yet have a way to stay closed because I'm hesitating among a few possibilities, none of which really thrill me! But I'll get there...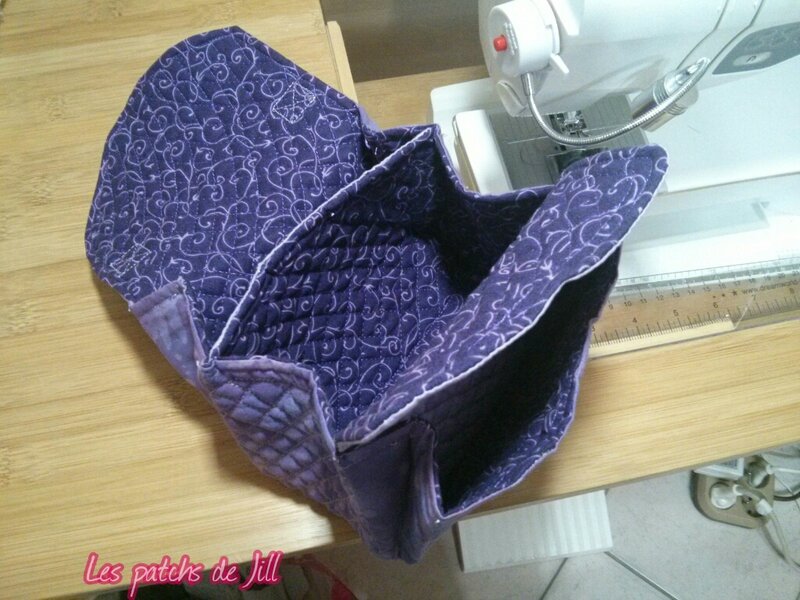 Et puis, étant donné que j'avais terminé mon dernier pull, j'ai commencé un autre ouvrage au tricot, cette fois-ci un gilet. J'utilise encore un fois CustomFit pour être sûre que tout se conformera à mes mensurations! Voici une vue du dos à moitié fini.
Then, since I'd finished knitting my last sweater, I began another knitting project, a cardigan this time. Once again, I'm using CustomFit so as to be sure the sweater will fit me properly.
02 novembre 2015
Novembre déjà?
Où sont passés les derniers mois? Il faut dire que j'ai eu un certain nombre d'"événements" imprévus qui m'ont enlevé toute idée de poster sur mon blog. Le plus gros étant à peu près réglé maintenant, je reviens avec mon dernier travail terminé. Il s'agit d'un pull, le Pilot House d'Amy Herzog, adapté à ma taille avec son Custom Fit. Je ne peux pas recommander Custom Fit assez! Un pull à mes mensurations et avec le nombre de mailles et de rangs que moi je tricotte! Le voici, tricoté dans une laine alpaga/laine/soie très douce.
Where have the last several months gone? I have to admit that I've had a number of unforeseen "events" in my life that eclipsed any ideas of posting to my blog. But most of this has been taken care of now, so I'm back with my last finished project. It's a sweater, Pilot House by Amy Herzog, adapted to my size with Custom Fit. I can't recommend Custom Fit enough! It makes a sweater in my measurements and with my gauge! Here it is, knitted in a super-soft alpaca/wool/silk yarn.