18 juillet 2018
Une licorne rose
Après une très longue absence à cause d'un ennui de santé, je me remets doucement au patch. Pour l'instant, je ne peux pas travailler sur mes projets en cours car ils sont trop grands et lourds, mais j'ai quand même pu faire un petit projet pour une naissance! Une de mes amies est très douée en peinture et a fait quelque chose pour la naissance de chacun de mes petits enfants, alors j'ai décidé de faire un petit patch à mettre au mur pour la naissance de sa première petite-fille. J'ai trouvé le modèle pour une jolie licorne en paper-piecing ici, et comme j'ai estimé que c'était quelque chose que je pouvais faire pendant ma convalescence, je l'ai fait! Voici, donc, le travail!
After a very long absence because of a health problem, I'm slowly getting back into quilting. Right now, I can't work on my in-progress projects since they're too big and heavy, but I was able to make a small wall-hanging as a baby gift! One of my friends is a talented painter and has made something for each of my grand-children when they were born, so I decided to make a little wall-hanging to welcome her first granddaughter. I found the pattern for this cute paper-pieced unicorn at QuiettPlay and thought it was something I could make during my convalescience. So with no further ado, here it is!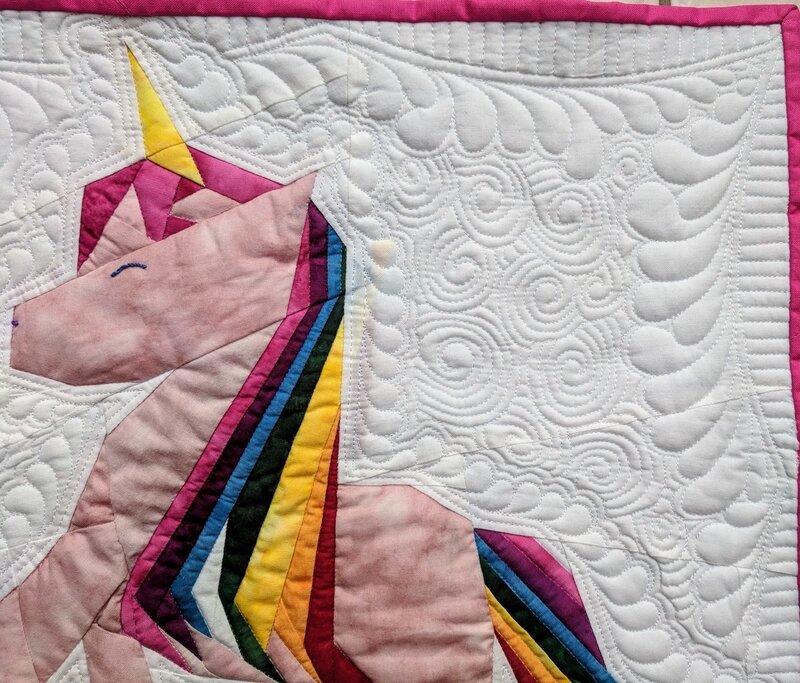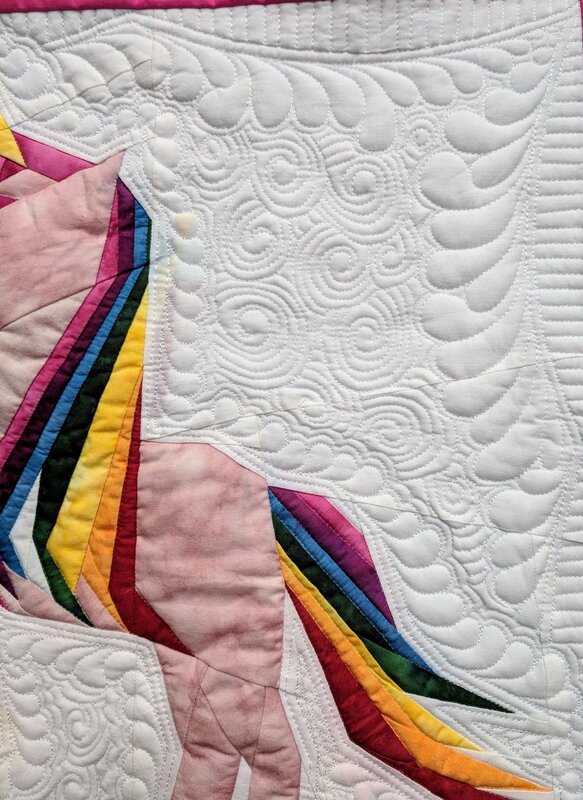 12 février 2018
Trop tôt pour Noël?
J'ai démarré ce quilt en mai dernier, et l'ai mis de côté pour diverses raisons. Cependant, il est terminé maintenant et prêt à s'ajouter à nos décorations de Noël en décembre prochain! Un peu en avance, je vous l'accorde, mais au moins comme ça je n'oublierai pas de le finir!
I began this quilt last May and then put it aside for various reasons. It's finished now, however, and ready to be added to our Christmas decorations next December! It's a little early, I agree, but at least I won't forget to finish it in time now!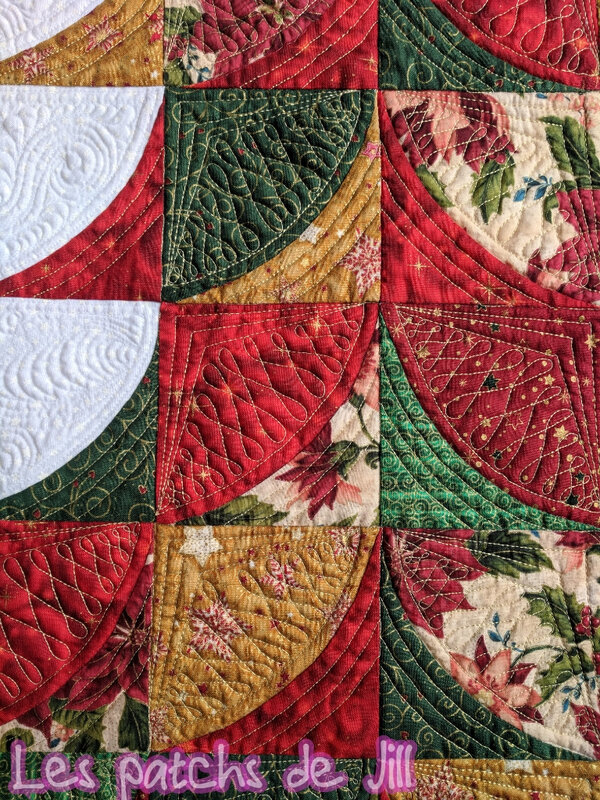 Voici un gros plan du quilting dans le sapin. Fil Magnifico de Superior Threads.
Here's a close-up of the quilting in the tree. I used Superior's Magnifico for this.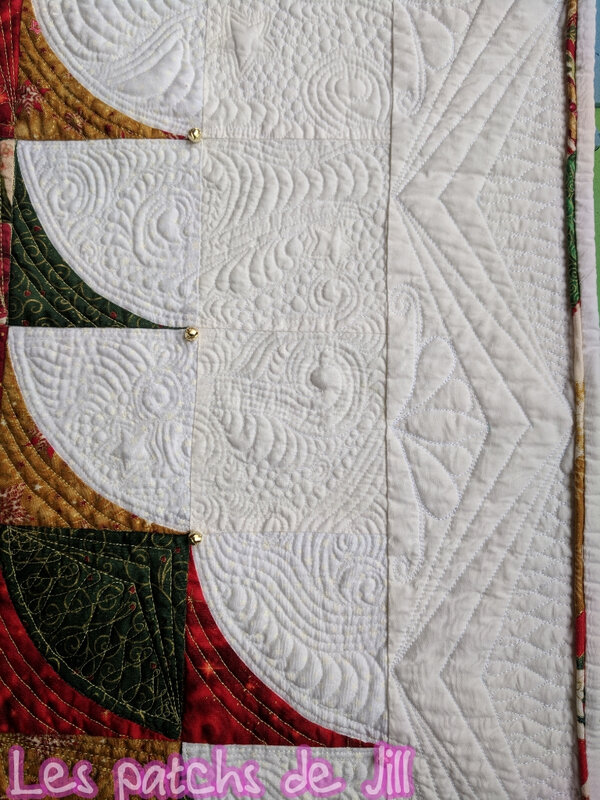 Et voici le quilting dans le fond; c'est un mélange de piqué libre et de quilting avec des règles. J'ai utilisé un fil très fin pour ceci, l'Invisifil.
And here's a close-up of the background; the quilting is a combination of FMQ and ruler work. I used fine Invisifil for this.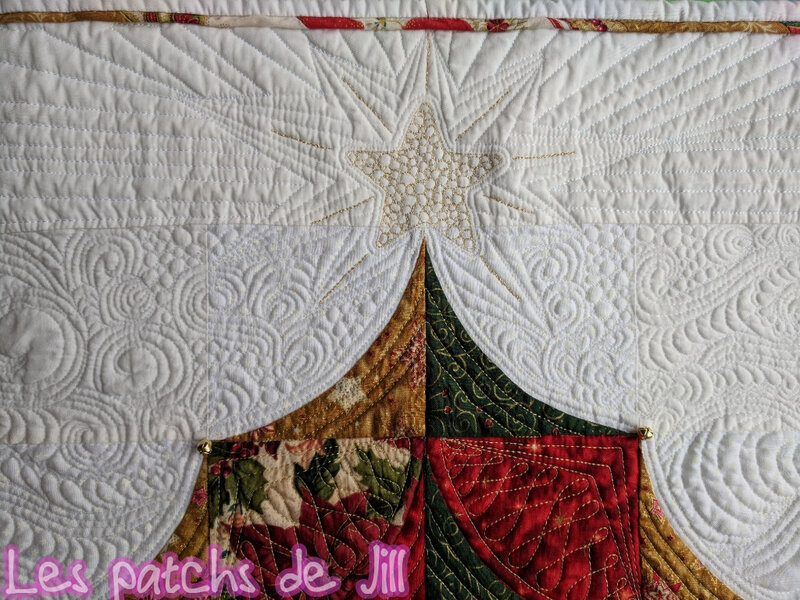 Ceci est un grand premier pour moi: j'a fait cette étoile avec du fil métallisé, et je trouve qu'il rend très bien!
This is a first for me: I stitched this star with metallic thread, and I think it came out quite well!
23 novembre 2017
Nouveau quilt!
Les débuts... / The beginning...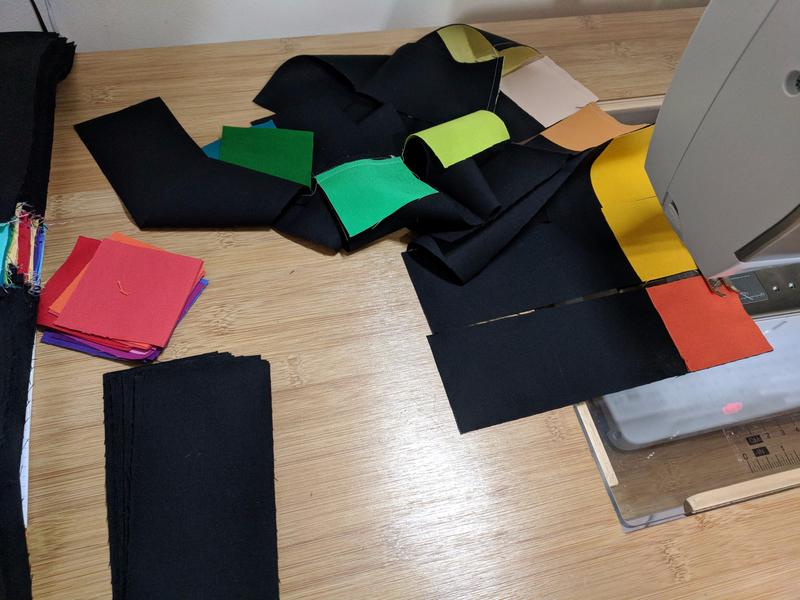 08 novembre 2017
Houston!
Avez-vous entendu parler de l'International Quilt Festival à Houston? C'est le plus grand salon de quilt au monde, et c'est tout simplement fabuleux! J'y suis allée la semaine dernière, avec mes amies Josette et Annie, et nous nous sommes régalées! D'abord, l'organisation est hors pair, les allées larges et bien indiquées, les stands grands et beaux, l'infrastructure au top. Mais surtout, on y voit des centaines de quilts, les uns plus merveilleux que les autres; il y en a pour tous les goûts et de tous les styles. Voici une photo d'une petite partie du salon pour donner une idée de la taille des allées.
Have you heard of the International Quilt Festival in Houston? It's the biggest quilt show in the world, et it's simply fabulous! I went to it last week, along with my friends Josette and Annie, and we had the most wonderful time! To begin with, it's extremely well organized, the aisles are wide and well indicated, the stands big and beautiful, the infrastructure amazing. But above all there are literally hundreds of quilts, each more gorgeous than the next; there are quilts for every taste and in every style. Here's a photo of a small part of it just to show you the size of the aisles.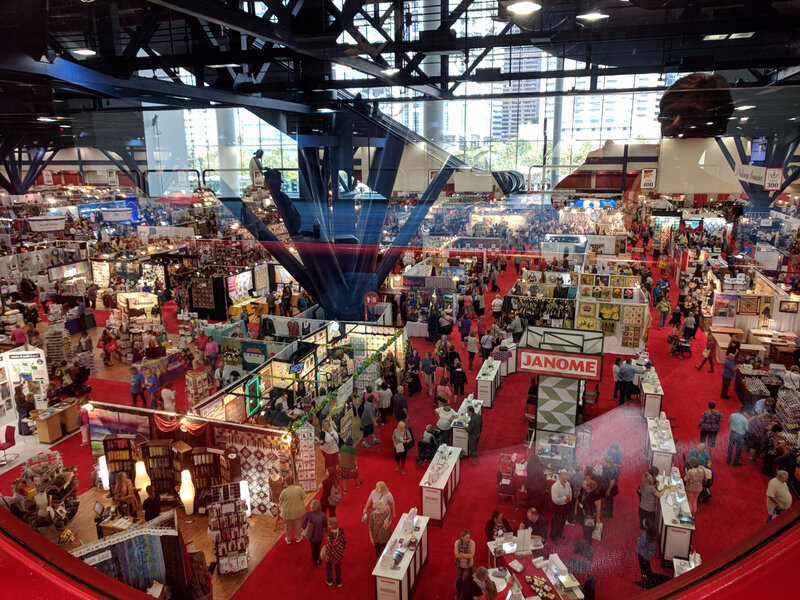 Nous avons fait des emplettes, bien sûr! Pour ma part, j'ai acheté des fils divers, certains que j'utilise déjà et d'autres pour les essayer. J'ai fait d'autres achats (photo ci-dessous!), mais j'ai aussi passé des heures à admirer les quilts!
We shopped, of course! I picked up some different threads, some that I'm used to using and some that I want to try out. I treated myself to a few other things (photo below!), but I also passed several hours admiring the quilts!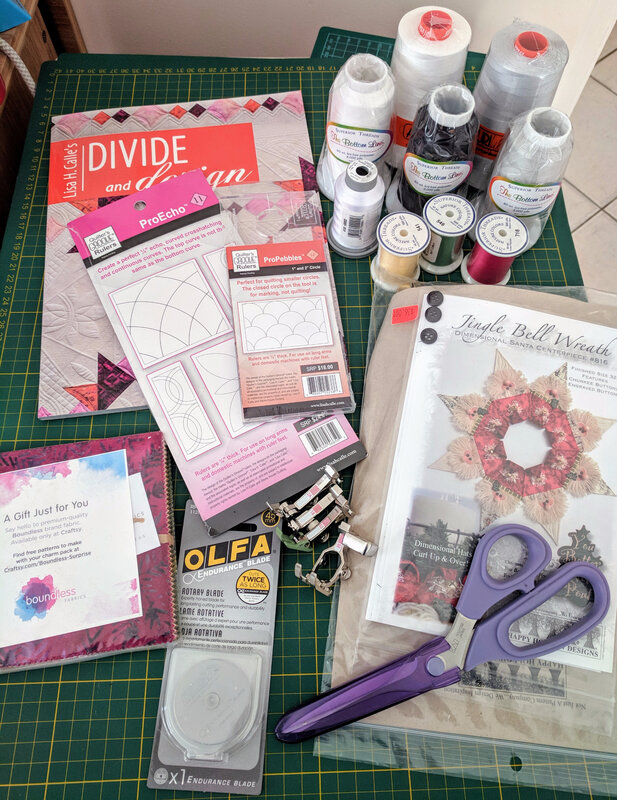 Ce n'est pas tout, cependant! Je me suis inscrite à deux cours sur le quilting machine avec des "professeurs" qui ont fait des quilts primés. Le premier était un cours de trois heures avec Jenny K. Lyon, qui est très drôle et très encourageante. Annie et moi avons essayé de nouveaux motifs de quilting et écouté des conseils précieux. Le second cours avait lieu sur une journée entière et était enseigné par Philippa Naylor; c'était un cours très riche et dense, rempli d'informations utiles en plus des motifs de quilting qu'elle nous a fait essayer. C'était le troisième cours que je suis avec Philippa, et je n'hésiterai pas à en suivre d'autres à l'occasion!
That's not all, though! I registered for two classes on machine quilting with teachers who have made award-winning quilts. The first was a three-hour class with Jenny K. Lyon, who is quite funny and very encouraging. Annie and I tried out some new quilting motifs and got some wonderful advice. The second class was an all-day class and was taught by Philippa Naylor; it was enriching and amazingly full of information of all kinds, in addition to the quilting motifs she had us practice. It's the third class I've taken from Philippa, and I won't hesitate to take more from her if the opportunity arises!
Tout compte fait, Houston a été une expérience inoubliable et que je recommande!
All in all, Houston was an unforgettable experience, and I highly recommend it!
18 septembre 2017
Terminé!
Après des mois bien remplis de voyages, de golf et d'amis, me revoilà avec un quilt terminé! Je l'ai commencé il y a plus d'un an, fait une pause pour faire un quilt pour la naissance de ma deuxième petite-fille, et fait de nouveau une pause pour réfléchir à comment le quilter. Puis j'ai fini par découdre tout ce que j'avais déjà fait! Ensuite, profitant d'une nouvelle machine à coudre (une Bernina 770, une vraie merveille!), j'ai recommencé le quilting. Je dois dire que j'ai bénéficié d'excellentes pistes de la part de KathleenQuilts, qui est une vraie experte. Le quilting est un mélange de piqué-libre et de travail avec des règles. Allez, sans plus attendre, je vous présente "A Rainbow of Bubbles"! (Cliquez sur les photos pour voir les versions plus grandes.)
After a number of months filled with trips, golf and friends, I'm finally back with a finish! I began this quilt over a year ago, took a break to make a baby quilt for my second granddaughter, and took another break to think about how to quilt it. After all of that, I ended up ripping out everything I'd already quilted! Then, taking advantage of a new sewing machine (a Bernina 770 - what a gem!), I started over on the quilting. I have to give credit to the excellent suggestions given to me by KathleenQuilts, who is a real expert. The quilting is a mix of free-motion quilting and ruler work. Now, without further ado, here is "A Rainbow of Bubbles"! (Click on the photos to see bigger versions of them.)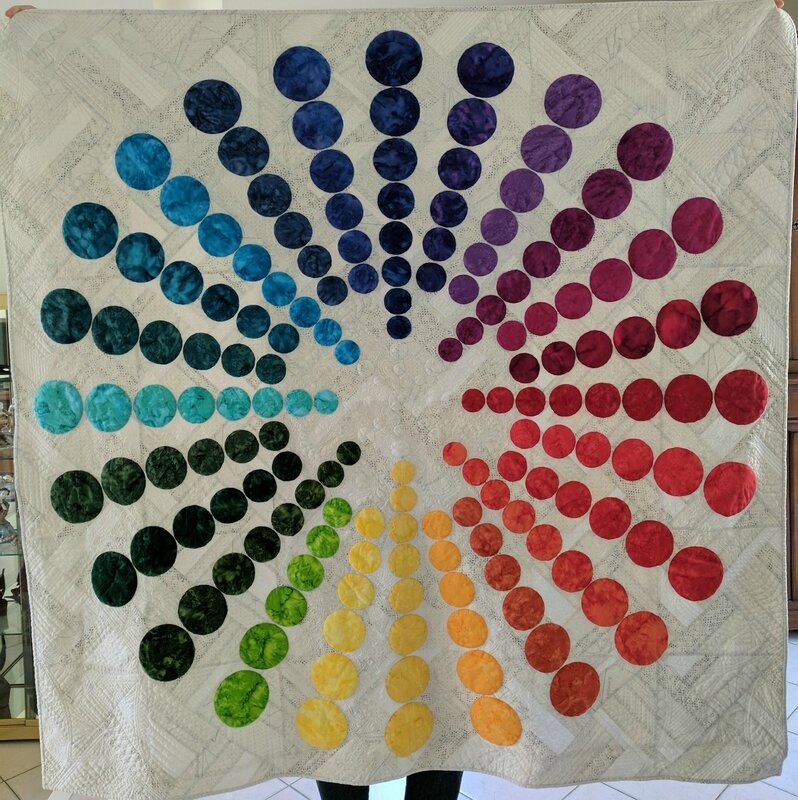 Le voici / Here it is!
Gros plan sur le centre avec des cercles supplémentaires / Close-up of the center with ghost circles.
Le quilting dans un des coins extérieurs / The quilting in one of the outer corners.
Le quilting (des tourbillons) entre les rayons / The swirls quilted between the "rays".
Une plume comme transition entre le centre et les tourbillons / A feather serving as a transition between the center and the swirls.
Et cerise sur le gâteau, mon mari adore ce quilt! / And the best part is, my husband absolutely loves it!
18 mars 2017
Nouveau pique-aiguille
Le pique-aiguille-sac-à-déchets que j'ai fait en 2009 (comme le temps passe vite!) montrant des signes de vieillesse, je me suis mise en quête d'un nouveau modèle, et j'en ai trouvé un qui me plaisait beaucoup chez Elizabeth Hartman; elle l'appelle Pincushion Organizer, et il permet non seulement de ranger des épingles et d'avoir un petit sac à déchets à côté de la machine à coudre, mais a aussi une petite série de poches pour les outils dont on se sert souvent! J'ai suivi ses instructions à la lettre sauf pour deux petites modifications: j'ai monté le sac à droite du panneau de poches plutôt qu'à gauche (comme dans le modèle) pour des raisons de praticité personnelle. La deuxième modification est invisible mais ajoute un petit plus, à mon avis: j'ai inséré un morceau de corde à linge dans le haut du sac pour le garder toujours bien ouvert. J'ai tout fait avec des chutes de tissus dans mes placards, et vous remarquerez que le tout est assorti aux couleurs de ma machine! ;-)
The pincushion/thread catcher that I made in 2009 (how is it possible that it's been that long??) was showing signs of its age, so I went looking for a new pattern and found one that I liked a lot on Elizabeth Harman's site. She calls it Pincushion Organizer, and what an organizer it is! Not only is it a pincushion and a thread catcher, but it also has a panel of pockets for all the little tools that I use often when at the machine! I followed the instructions to the letter except for two tiny modifications: I put the thread catcher on the right side of the panel instead of on the left as it was in the pattern; I did this for reasons of practicality in my set-up. The second modification isn't really visible, but adds another practical aspect to it: I inserted a length of clothesline into the top of the thread catcher so that it always stays completely open. I made the whole thing with fabric I had on hand, and you might notice that it matches the colors of my machine! ;-)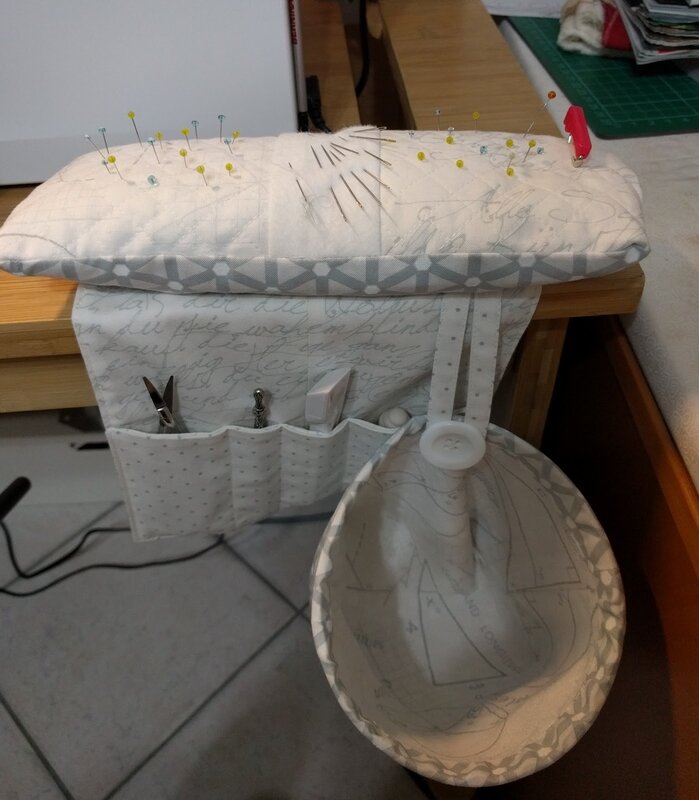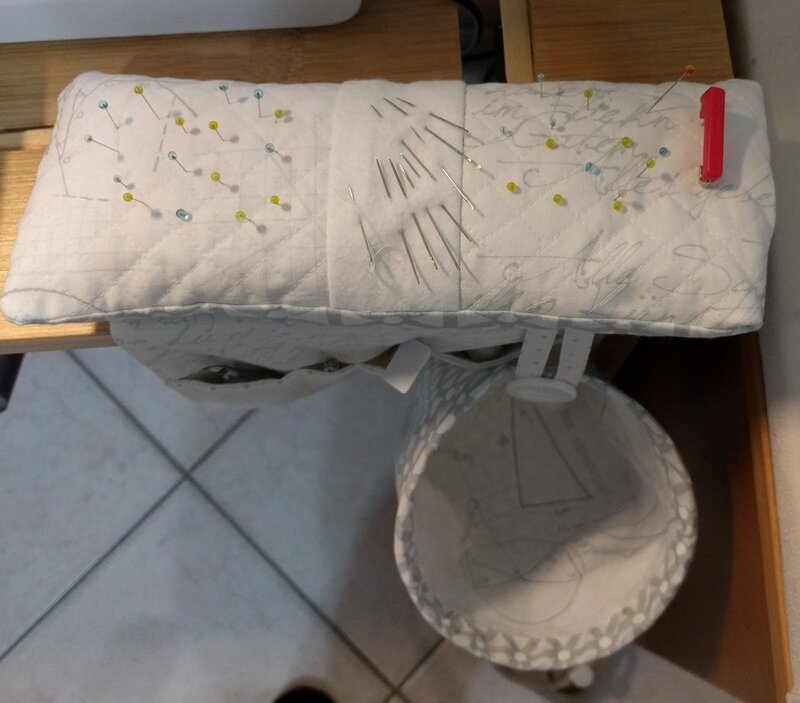 10 mars 2017
J'ai une nouvelle machine!!
Oui, une nouvelle machine, et pas n'importe laquelle! Je l'ai vue il y a environ deux ans, ai eu une démonstration plus que convaincante, et depuis j'attends le moment de l'acheter. Maintenant, ma patience a été récompensée, et je suis propriétaire d'une Bernina 770QE!
Yes, I have a new machine, and not just any machine! I saw it about two years ago, had a very convincing demonstration, and since then I've been waiting to be able to buy it. Now, though, my patience has been rewarded and I'm the proud owner of a Bernina 770QE!
Je l'adore! Mais il a fallu que je m'y habitue car il y a des différences avec mon ancienne machine. Alors, j'ai fait un mini-quilt avec un mélange d'assemblage, de paper-piecing et, pour terminer, du quilting en piqué-libre. Bonus: le tout est fait avec des "restes" d'autres quilts!
I love it! But I needed to get used to it because there are several differences with my old machine. So I made a mini-quilt using a mix of piecing and paper piecing and finished it off with some free-motion quilting. The plus in this is that I made the whole thing with leftover fabrics and batting!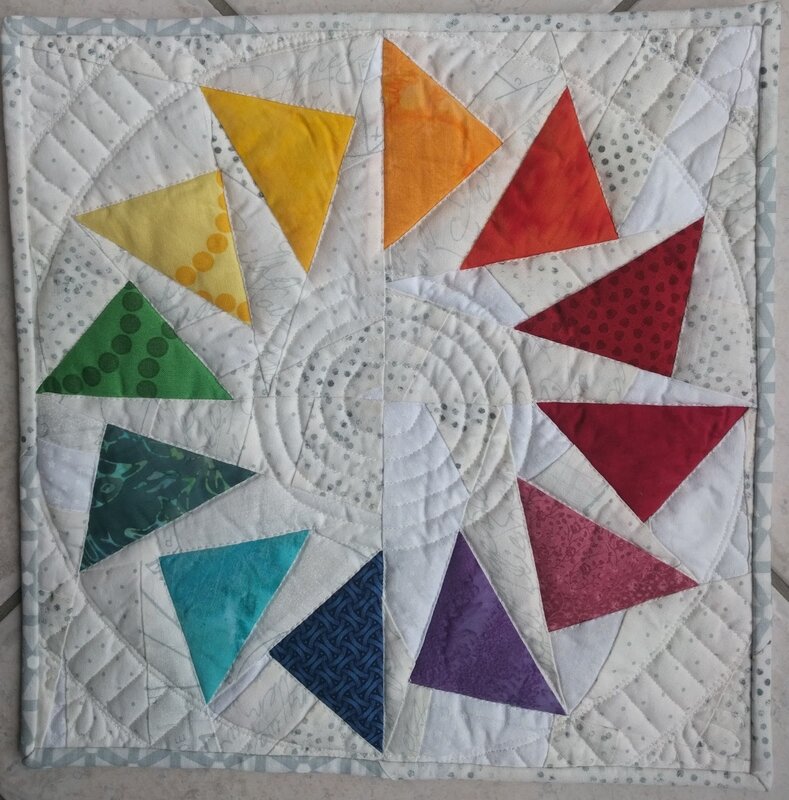 Mini-quilt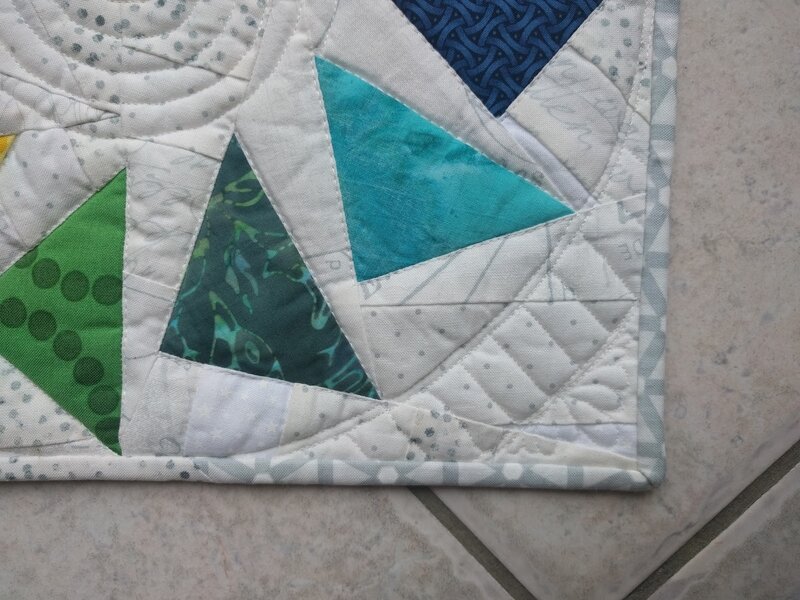 Détail du quilting / Quilting detail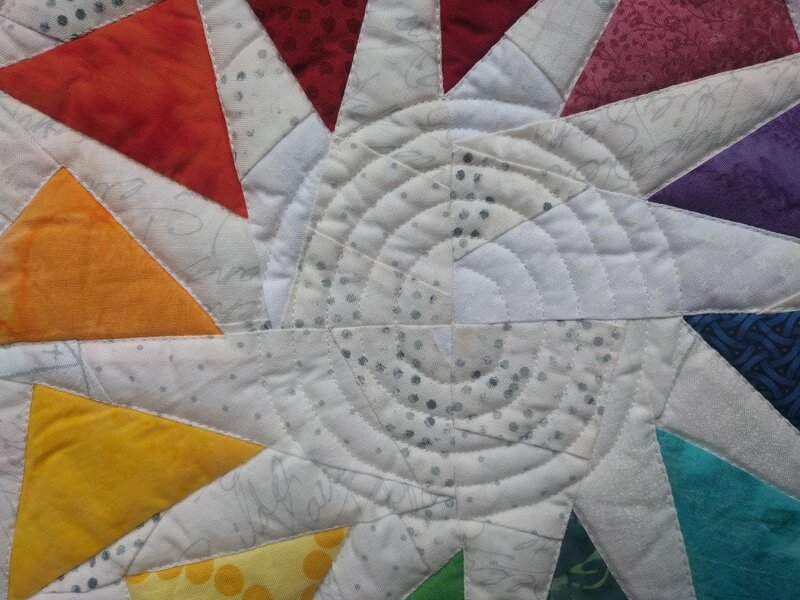 Deuxième détail du quilting / Another quilting detail
05 mars 2017
Il n'est jamais trop tard!
Non, il n'est jamais trop tard dans la saison pour faire des écharpes! Et j'en ai tricoté deux ces dernières semaines, une pour utiliser des pelotes de soie mélangée que j'avais achetées il y a quelques années, et l'autre à la demande de mon mari et pour laquelle j'ai utilisé des restes de laine Cuzco. Les voici:
No, it's never too late in the season to make scarves! I've made two in the past few weeks, one to use up some silk-mix yarn I'd bought several years ago, and the other by special request from my husband and for which I used some Cuzco yarn I had left over from a sweater I made him. Here they are: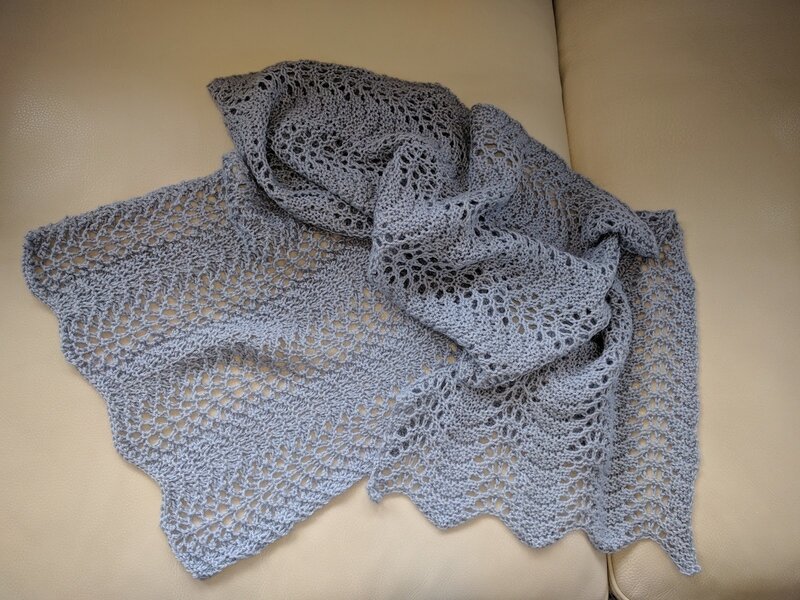 Mon écharpe / My scarf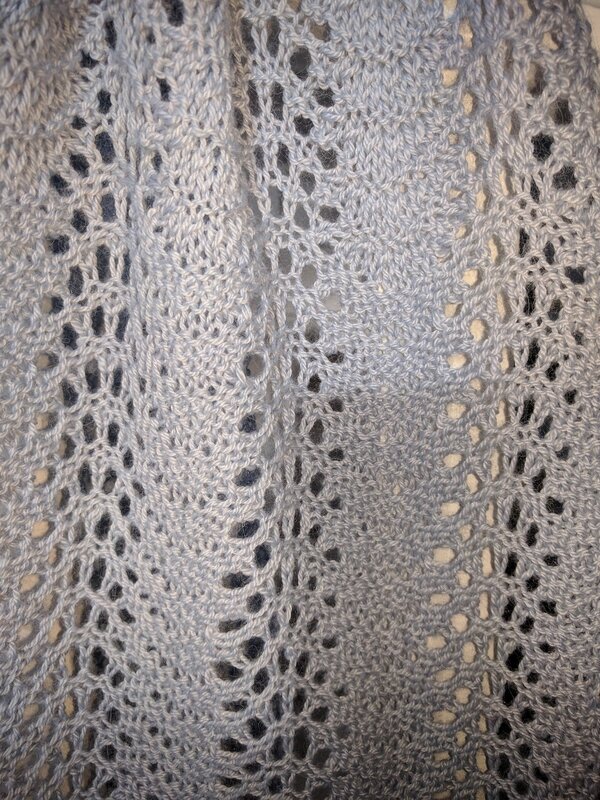 Détail du point / Detail of the stitch
Echarpe pour mon mari / My husband's scarf
13 février 2017
L'éléphant aux ballons
Il y a quelque temps, j'ai fait un quilt que je n'ai pas pu montrer sur ce blog parce qu'il était destiné à ma nouvelle petite-fille, Iris, qui était attendue ce mois-ci. Mais maintenant qu'elle est née et que le quilt est arrivé à destination, je peux enfin vous le montrer! Je l'ai adapté d'un modèle de Jennifer Sampou (Elephant and I), mais je ne voulais pas le faire tel quel. Une idée me trottait dans la tête, alors j'ai modifié l'éléphant and rajouté des ballons de toutes les couleurs. J'ai utilisé des fils de broderie pour les "ficelles" ainsi que pour la queue de l'éléphant, et le quilting est une grande spirale qui débute autour d'un des ballons. Le voici en photos!
Some time ago, I made a quilt that I couldn't post on this blog because it was for my new granddaughter, Iris, who was due this month. But now that she's been born and the quilt has been given to her, I can finally show it to you! I adapted it from a pattern by Jennifer Sampou (Elephant and I), but I didn't want to make it exactly as it was in the pattern. I had a little idea bouncing around in my head, so I modified the elephant and added rainbow balloons. I used embroidery floss for the balloon "strings" and for the elephant's tail, and the quilting is a big spiral that begins around one of the balloons. Here it is in photos!
Comme vous pouvez le constater, j'ai recourbé son trompe pour qu'il puisse "tenir" les ballons.
As you can tell, I curved his trunk more so he could "hold" the balloons.
Voici un gros plan de l'éléphant. / Here's a close-up of the elephant.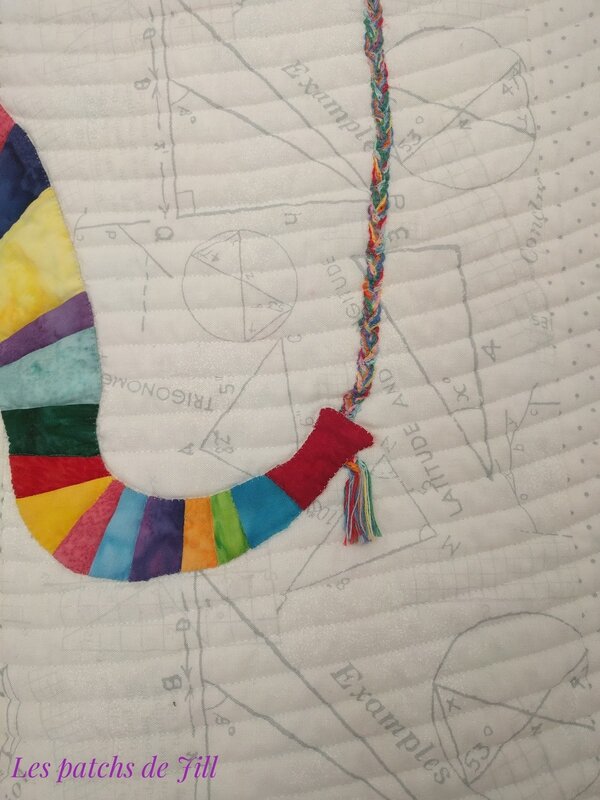 Et voici la trompe qui tient les "ficelles". / And here's the trunk holding the "strings".



Enfin, voici un gros plan des ballons que j'ai brodés. / And finally, here's a close-up of the balloons that I embroidered.

J'aurai d'autres photos de cadeaux à vous montrer par la suite!
I'll show you photos of more gifts in another post!

19 décembre 2016
La guerre aux courants d'air!
Je quilt "secret" est terminé, ainsi que du tricot "secret", mais j'ai quand même quelque chose à vous montrer en attendant de dévoiler ces secrets dans un peu plus d'un mois. Il s'agit de mon arme contre un courant d'air qui me glace les pieds quand je suis assise à mon bureau. Il me fallait quelque chose de gros et de long, vu la dimension et l'emplacement de la fenêtre, et donc j'ai décidé de le fabriquer moi-même. Après tout, nous sommes toutes des personnes qui fabriquons, n'est-ce pas?

Il fait 1m20 de long sur 30cm de circonférence, et a été fait avec des restes de tissus et de molleton que j'avais dans mes placards. Un ouvrage totalement "gratuit"!
My secret quilt is finished, as is the secret knitting I've been doing (I'll be able to reveal it all in a little over a month), but in the meantime, I do have something to show you. It's my weapon against the draft that freezes my feet when I sit at my desk. I needed something long and fat, given how the window is set into the wall and how long it is, so I decided to make it myself. After all, we are makers, aren't we?

It is 47" long and 12" around, and I made it with scraps of fabric and batting that I had already. A project that was completely "free"!