13 février 2017
L'éléphant aux ballons
Il y a quelque temps, j'ai fait un quilt que je n'ai pas pu montrer sur ce blog parce qu'il était destiné à ma nouvelle petite-fille, Iris, qui était attendue ce mois-ci. Mais maintenant qu'elle est née et que le quilt est arrivé à destination, je peux enfin vous le montrer! Je l'ai adapté d'un modèle de Jennifer Sampou (Elephant and I), mais je ne voulais pas le faire tel quel. Une idée me trottait dans la tête, alors j'ai modifié l'éléphant and rajouté des ballons de toutes les couleurs. J'ai utilisé des fils de broderie pour les "ficelles" ainsi que pour la queue de l'éléphant, et le quilting est une grande spirale qui débute autour d'un des ballons. Le voici en photos!
Some time ago, I made a quilt that I couldn't post on this blog because it was for my new granddaughter, Iris, who was due this month. But now that she's been born and the quilt has been given to her, I can finally show it to you! I adapted it from a pattern by Jennifer Sampou (Elephant and I), but I didn't want to make it exactly as it was in the pattern. I had a little idea bouncing around in my head, so I modified the elephant and added rainbow balloons. I used embroidery floss for the balloon "strings" and for the elephant's tail, and the quilting is a big spiral that begins around one of the balloons. Here it is in photos!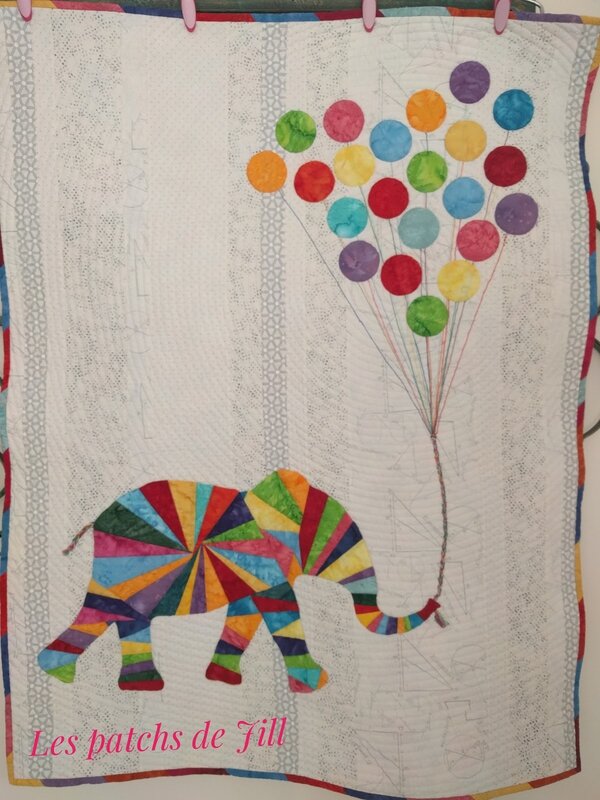 Comme vous pouvez le constater, j'ai recourbé son trompe pour qu'il puisse "tenir" les ballons.
As you can tell, I curved his trunk more so he could "hold" the balloons.
Voici un gros plan de l'éléphant. / Here's a close-up of the elephant.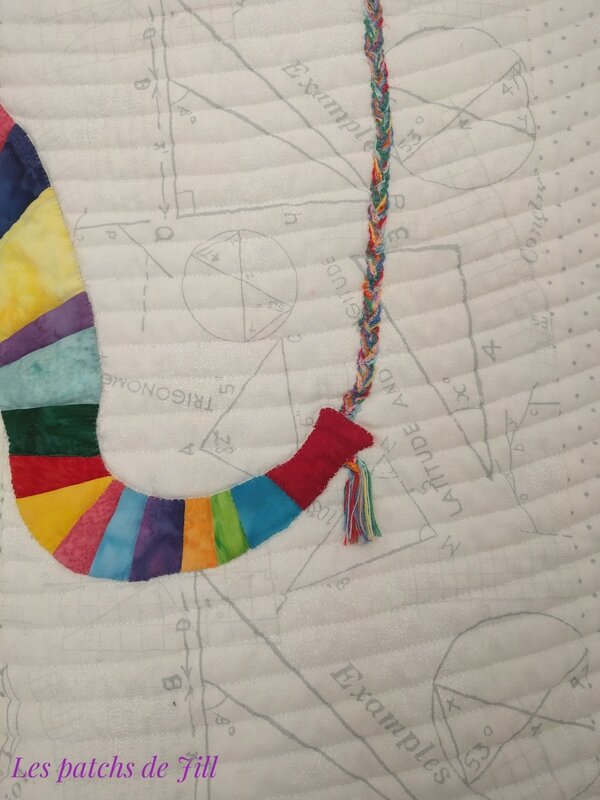 Et voici la trompe qui tient les "ficelles". / And here's the trunk holding the "strings".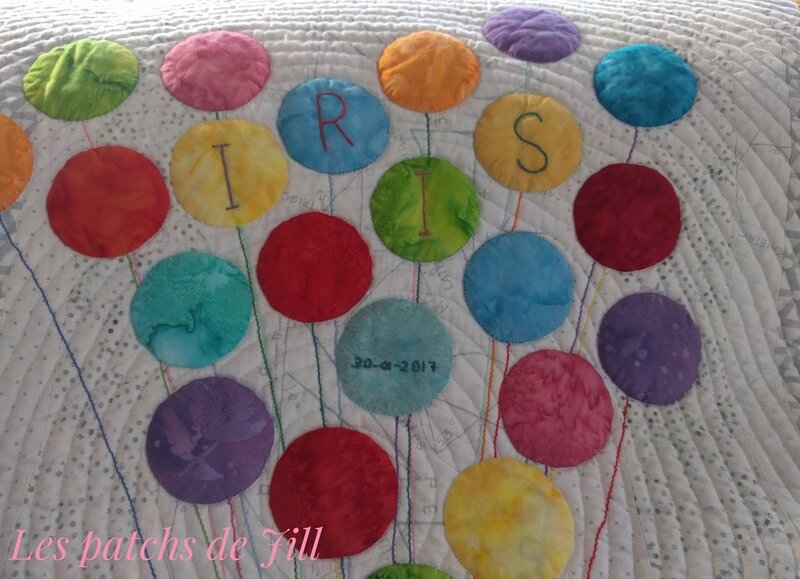 Enfin, voici un gros plan des ballons que j'ai brodés. / And finally, here's a close-up of the balloons that I embroidered.

J'aurai d'autres photos de cadeaux à vous montrer par la suite!
I'll show you photos of more gifts in another post!

19 décembre 2016
La guerre aux courants d'air!
Je quilt "secret" est terminé, ainsi que du tricot "secret", mais j'ai quand même quelque chose à vous montrer en attendant de dévoiler ces secrets dans un peu plus d'un mois. Il s'agit de mon arme contre un courant d'air qui me glace les pieds quand je suis assise à mon bureau. Il me fallait quelque chose de gros et de long, vu la dimension et l'emplacement de la fenêtre, et donc j'ai décidé de le fabriquer moi-même. Après tout, nous sommes toutes des personnes qui fabriquons, n'est-ce pas?

Il fait 1m20 de long sur 30cm de circonférence, et a été fait avec des restes de tissus et de molleton que j'avais dans mes placards. Un ouvrage totalement "gratuit"!
My secret quilt is finished, as is the secret knitting I've been doing (I'll be able to reveal it all in a little over a month), but in the meantime, I do have something to show you. It's my weapon against the draft that freezes my feet when I sit at my desk. I needed something long and fat, given how the window is set into the wall and how long it is, so I decided to make it myself. After all, we are makers, aren't we?

It is 47" long and 12" around, and I made it with scraps of fabric and batting that I had already. A project that was completely "free"!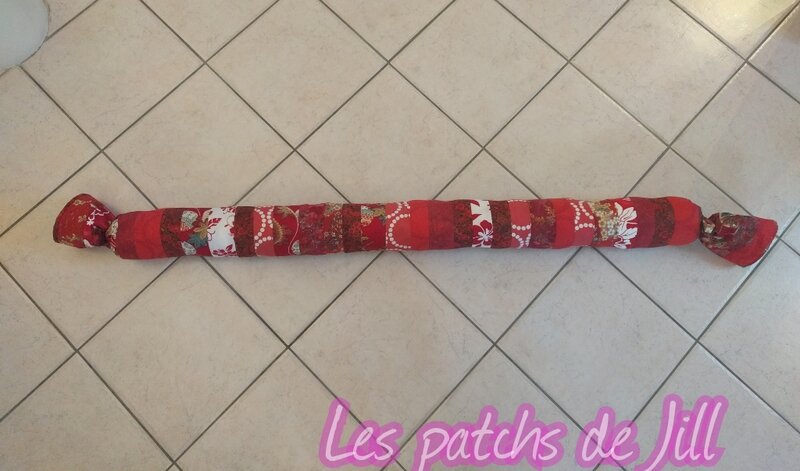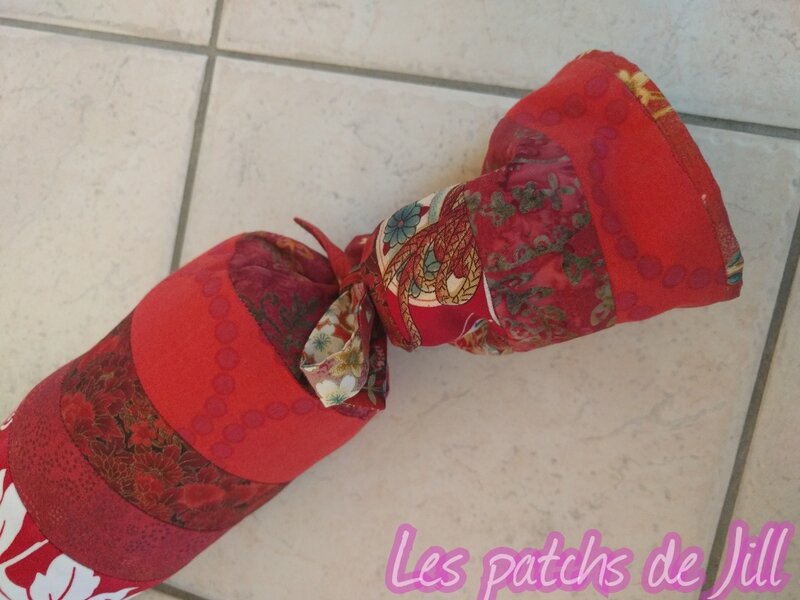 06 novembre 2016
Quilting "secret"
Eh oui, le patch que j'avais commencé et qui est composé de cercles multicolores est en attente en ce moment. Mais c'est pour une très bonne raison : mon quatrième petit-enfant est attendu pour le mois de février, et bien entendu, il fallait que je lui fasse son quilt. Pas question que cet enfant soit le seul à ne pas avoir son quilt, après tout! Cependant, comme c'est un quilt que je lui offrirai à sa naissance, il faut qu'il reste secret pour le moment.
That's right, the quilt I began and which is a series of multicolored circles has been temporarily put aside. However, it's for a very good reason: my fourth grandchild is expected in February, and of course I had to make a quilt for her. I couldn't let her be the only one without a quilt, after all! But since I won't give her the quilt till she's born, it has to remain a secret for the time being.
Ce que je peux dire (et vous montrer) est une partie du quilting. J'essaie quelque chose de nouveau pour moi cette fois-ci: une énorme spirale que je fais avec le pied à double entraînement de ma machine. Ca donne une texture très douillette et beaucoup de relief; jugez pour vous-même!
What I can say (and show you) is part of the quilting. I'm trying something new to me this time: a huge spiral that I'm using the walking foot of my machine to quilt. It makes for a soft and cuddly texture and lots of dimension; see for yourselves!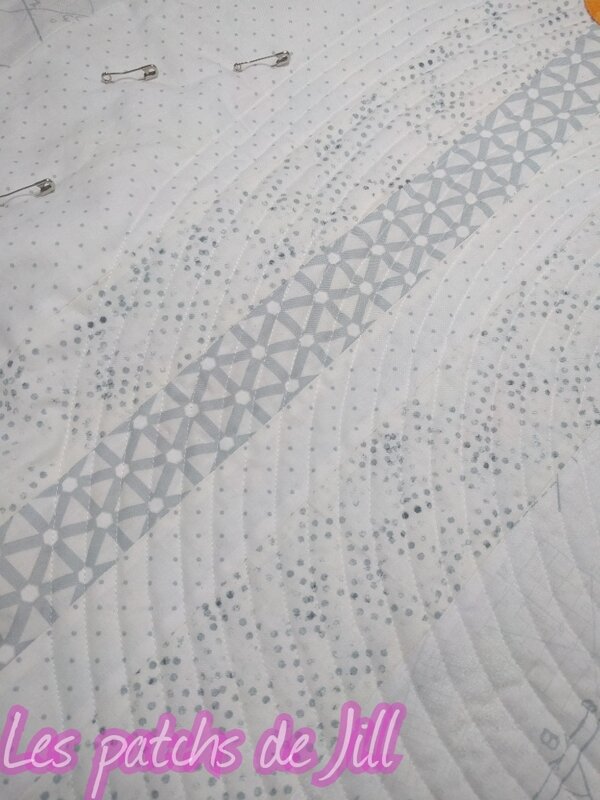 10 octobre 2016
Un pull fini!
A la fin de l'hiver dernier, j'ai commencé un pull pour mon mari. Vu que l'hiver se terminait, il n'y avait pas le feu pour le terminer, et avec l'été, je l'ai mis de côté. Mais ça y est, il est terminé! Encore une fois, j'ai utilisé une "recette" Custom Fit, et encore une fois, le pull va au quart de poil à son destinataire. :) Comme d'habitude, voici des photos.
At the end of last winter, I began knitting a sweater for my husband. Since winter was coming to an end, I wasn't in any rush to finish it, so in the summer, I put it aside temporarily. But now it's done! Once again, I used a Custom Fit "recipe", and once again, the sweater fits perfectly. :) As usual, here are some photos.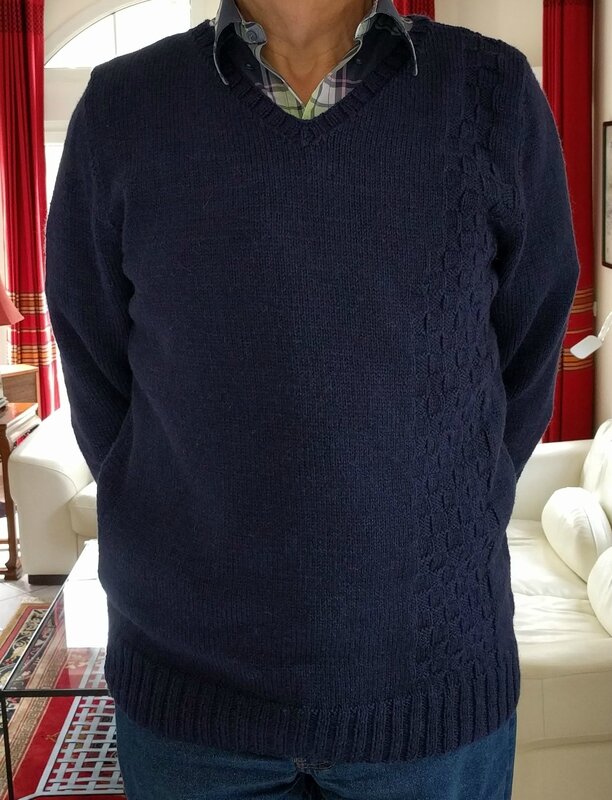 Cette photo montre la couleur le mieux. / This photo shows the color the best.
Voici un gros plan du point fantaisie asymétrique.
Here's a close-up of the asymmetrical pattern on the front.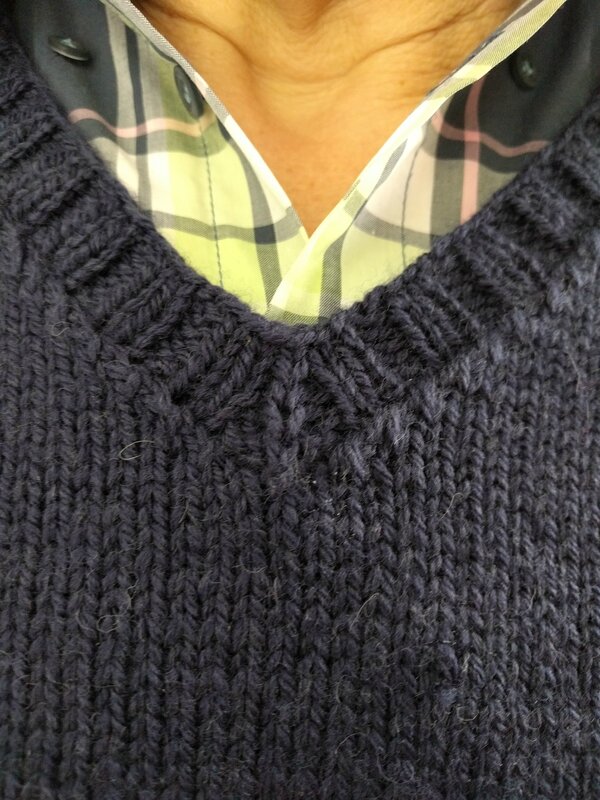 C'est la première fois que je fais une encolure en V avec des diminutions doubles au centre!
This was the first time I'd made a V-neck with double decreases in the middle!
23 septembre 2016
Six mois? Vraiment???
Quelque fois le temps file sans qu'on s'en rende compte, et c'est précisément ce qui m'est arrivé! Entre voyages, sorties, golf, etc., je n'ai pas beaucoup travaillé sur mon quilt pendant les mois d'été. Avant l'été, cependant, j'avais fini d'appliquer tous les cercles sur le fond et je l'ai "mis en sandwich" en utilisant le molleton que je préfère, le Legacy en laine de chez Hobbs.
Sometimes time just races by and we don't even realize it and that's exactly what happened to me! With trips, outings, golf, etc., I didn't do much on my quilt during the summer months. Before the summer, though, I finished appliquéing all the circles onto the background and I sandwiched it with my favorite batting, wool Legacy by Hobbs.
Au début de ce mois, j'ai pu commencer le quilting machine! C'est une étape que j'aime beaucoup, et cette fois j'ai décidé d'essayer quelque chose de nouveau: je voulais m'essayer à du quilting avec des règles comme celles qu'on utilise avec les longarms. Donc, une fois que j'avais quilté tout autour de chaque cercle pour bien stabiliser le tout, j'ai mis des séries d'arcs entre les rangées. Pour ce faire, j'ai utilisé un pied de biche adapté pour les règles, conçu et vendu par Westalee. Il est conçu pour ne pas passer sous la règle, ce qui pourrait avoir des conséquences catastrophiques pour ma machine!
At the beginning of this month, it was time to begin FMQ! I love doing that, and this time I'd decided to try something new to me: I wanted to try quilting with rulers like the ones longarmers use. So, once I'd quilted around each circle in order to stabilize the whole thing, I quilted curved lines between the rows of circles. To do this, I used a special foot made and sold by Westalee. It is designed not to slip under the ruler, which could have catastrophic consequences for my machine!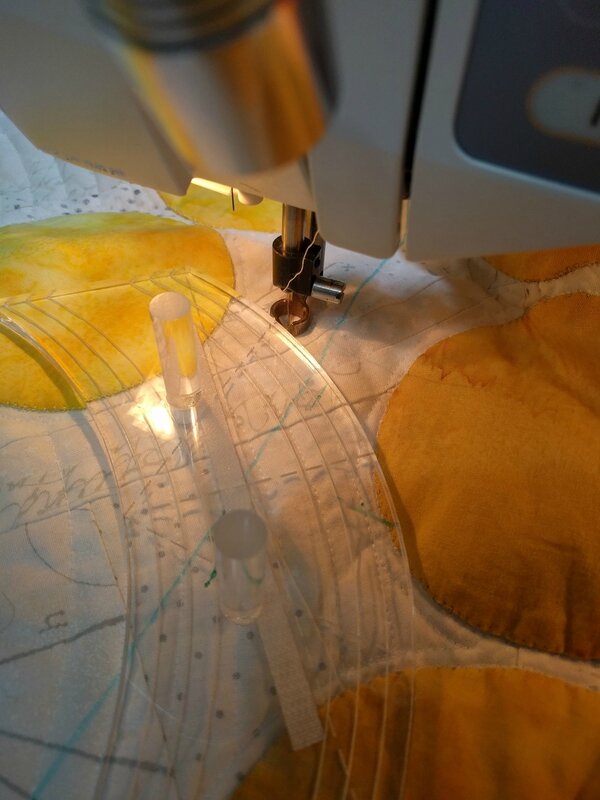 Je suis assez contente du résultat (malgré la manque de perfection!), une jolie texture entre les cercles.
In spite of the imperfections, I'm rather pleased with the resulting texture between the circles.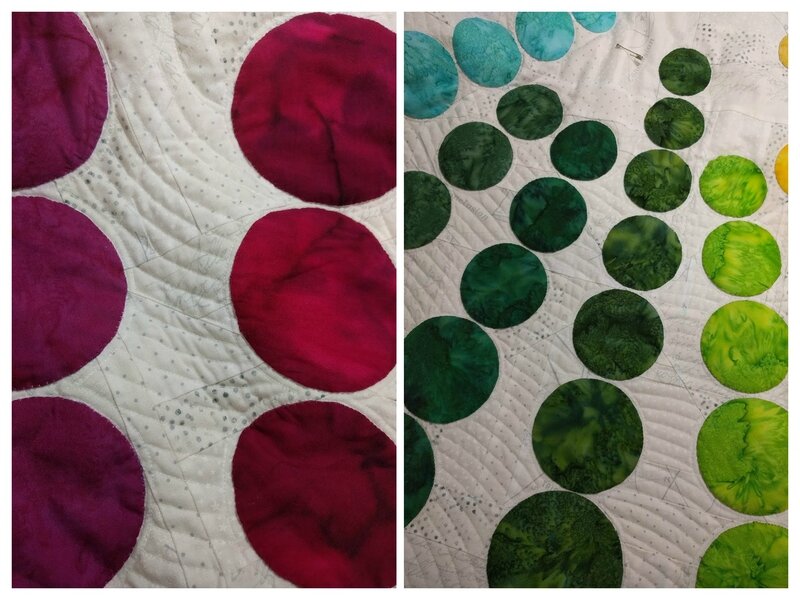 Evidemment, le quilting est loin d'être fini, mais là je le mets en pause pour faire un quilt pour le petit-fils ou petite-fille qui s'annonce!
Of course, the quilting is far from being finished, but I'm pausing it for the time being while I make a quilt for my future grandchild!
27 mars 2016
Faire et défaire..
Mon quilt avance, et voilà que tous les cercles de couleur sont prêts maintenant à être appliqués sur le fond.
My quilt is coming along, and now all the colored circles are ready to be appliquéd on the background.
Une fois ma machine nettoyée et réglée pour le point que je veux utiliser, je commence le travail, ce qui n'est pas une mince affaire quand il s'agit d'un top aussi grand!
Once my machine was cleaned and adjusted to do the stitch I want, I begin the stitching - not an easy job when the top is as big as this one!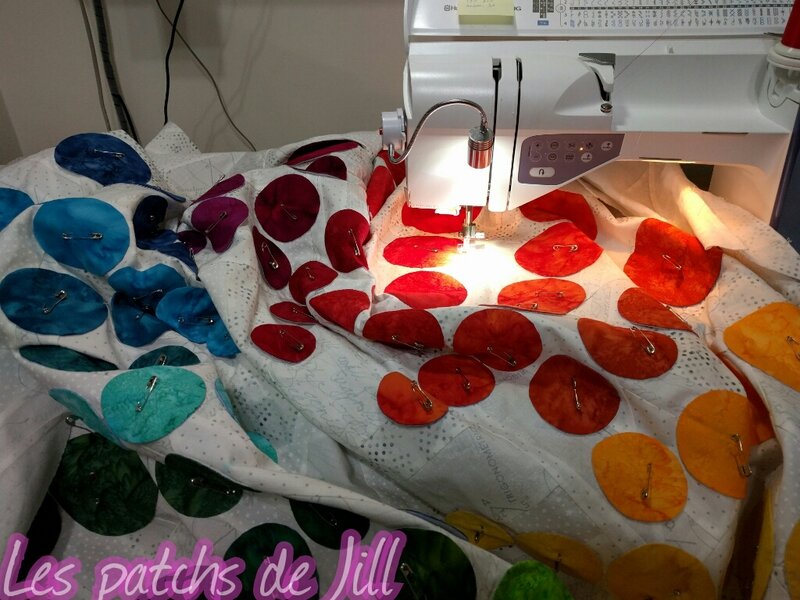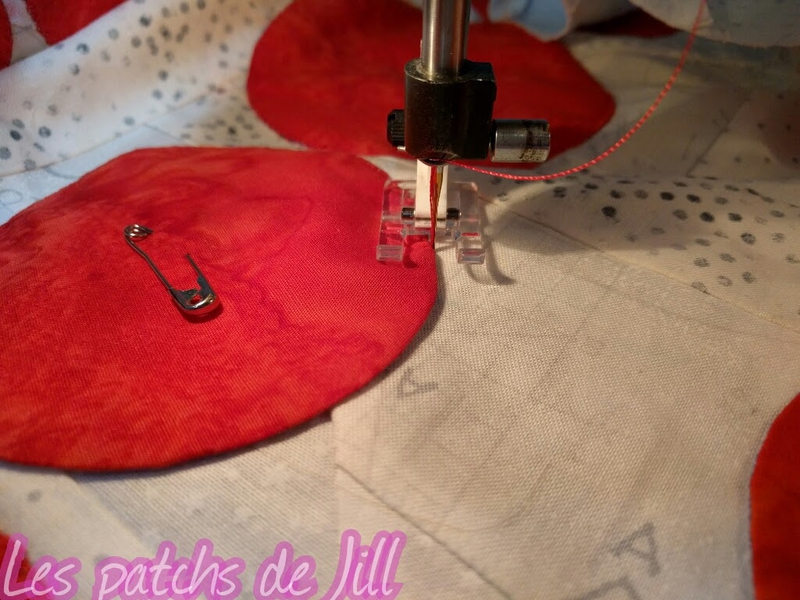 Tout va bien pendant un bon moment...jusqu'à ce que la tension la machine se dérègle! Et c'est vraiment vraiment visible! Je n'ai pas d'autre solution que de défaire, point par tout petit point.
Everything is going swimmingly...until the machine's tension goes wonky! And it's so very visible! There's nothing for it but to unpick each and every tiny stitch.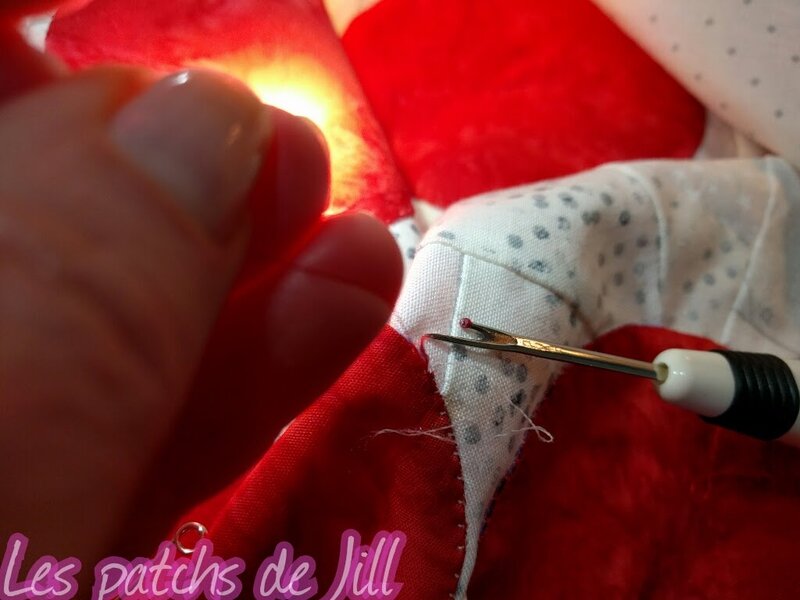 Ca fait partie du jeu! / It's all part of the process!
17 mars 2016
En cours...
Je travaille toujours sur mon nouveau patch dont j'ai déjà posté la photo du fond. Maintenant, je passe au stade de la préparation de l'appliqué, et je travaille avec des tas et des tas de couleurs! Voici une photo de ce que j'ai fait jusqu'ici.
I'm still working on my new quilt, the whose background I already posted here. Now, though, I'm preparing the appliqué, and I'm working with lots and lots of colors! Here's a picture of what I've done so far.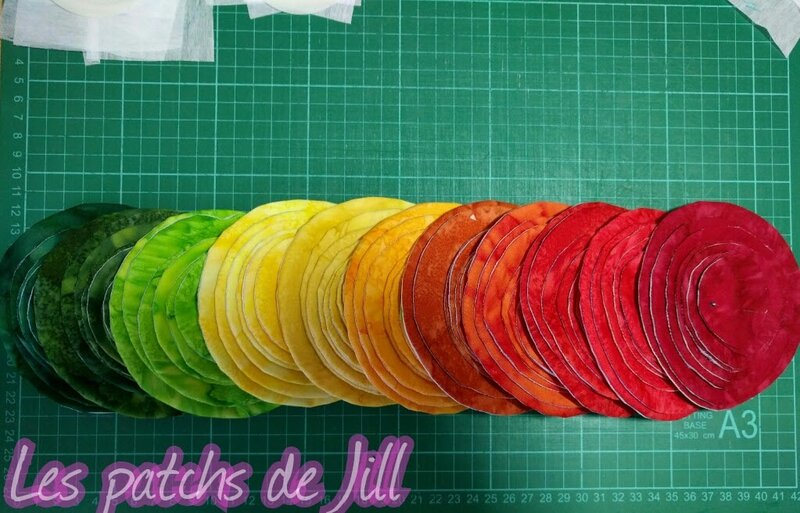 14 mars 2016
Explosion de couleur!
Voici l'arc en ciel qui va fournir les tissus pour l'appliqué de mon quilt en cours. Comme vous pouvez le constater, j'adore les couleurs vives!
Here is the rainbow that I will choose fabrics from for the appliqué on the quilt I'm currently working on. As you can see, I love bright colors!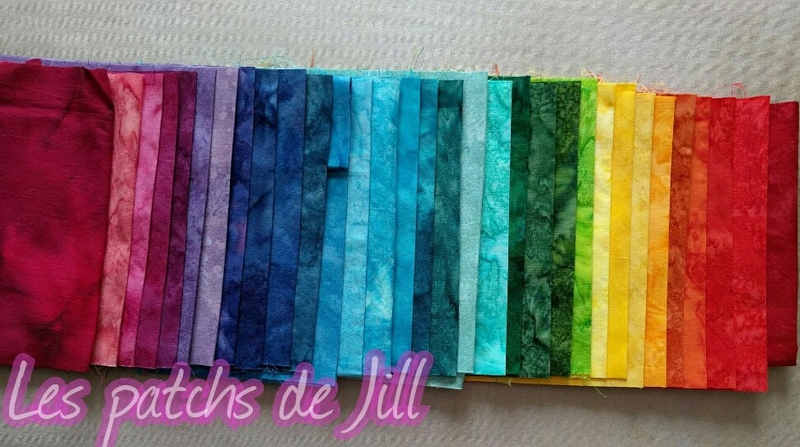 05 mars 2016
Des piles et des piles..
Le plaisir de voir certaines piles diminuer alors que d'autres augmentent!
The pleasure of seeing some piles decrease while others increase!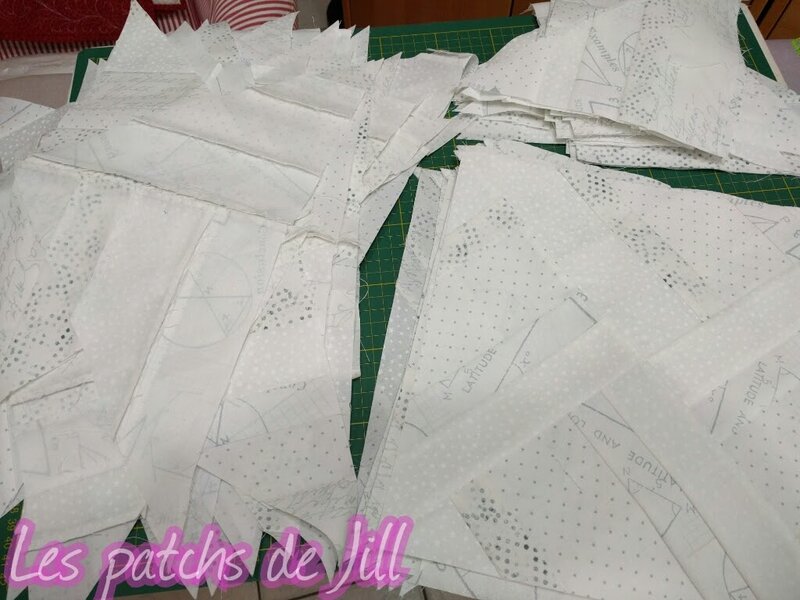 02 mars 2016
Au travail!
Depuis que j'ai terminé le dernier ouvrage, j'ai "séché". Mais cette longue période sans inspiration et sans quilt en cours est enfin terminée. J'ai dessiné un nouveau quilt, acheté des tissus, en ai choisi d'autres parmi ceux que j'avais déjà, et commencé à couper. Ou devrais-je dire, couper, assembler, recouper et ré-assembler! Je vous montre les deux premiers blocs parmi les 16 qui composeront le fond de mon quilt.
After finishing my last project, I hit a dry spell. However, the long period with no inspiration and no on-going quilt project has finally come to an end. I've designed a new quilt, purchased fabrics, chosen others from my meager stash, and begun to cut. Or, I should say, cut, sew together, cut again and sew together yet again! I can show you the first two of the 16 blocks that will make up the background of my new quilt.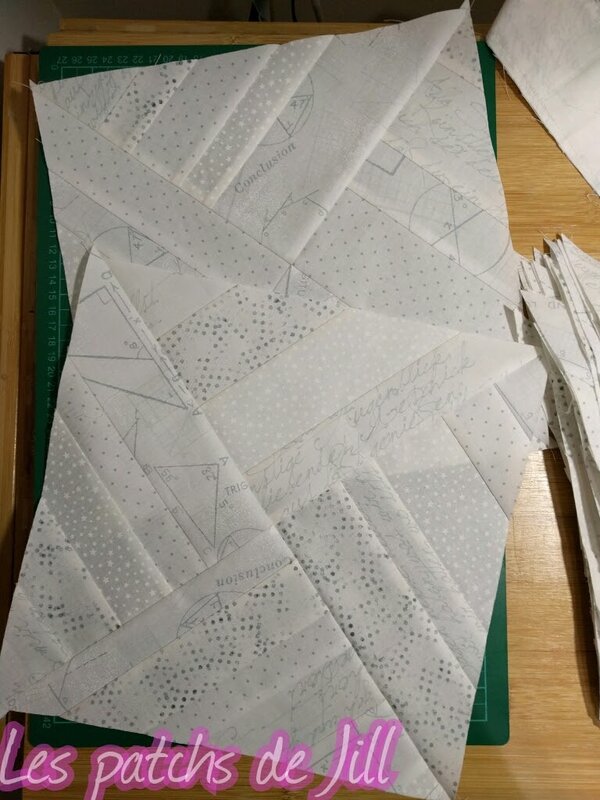 Les tissus sont presque tous de la collection Modern Background par Zen Chic.
The fabrics are almost all from the Modern Background collection by Zen Chic.